As they're wont to do, Google has posted an image that features a device we've not seen before. When we last saw them do this, it was an oddly manipulated image that appeared to be a larger Nexus tablet. This new image is revisiting those rumors, but there may be no way to wiggle their way out of this one.

The device shown on the main screen of the I/O website offers up someone playing with a smaller tablet. They're on the Racer game (and Chrome experiment) that made its appearance at I/O last year, which leads us to believe we'll see it again this year. The device is like nothing we've seen yet, but we've done a bit of digging and found who may be making it.
The tablet itself has front facing speakers, which has a design cue most Android tablets don't adopt. The NVIDIA Tablet has them, but not quite as subdued and neatly tucked away as these.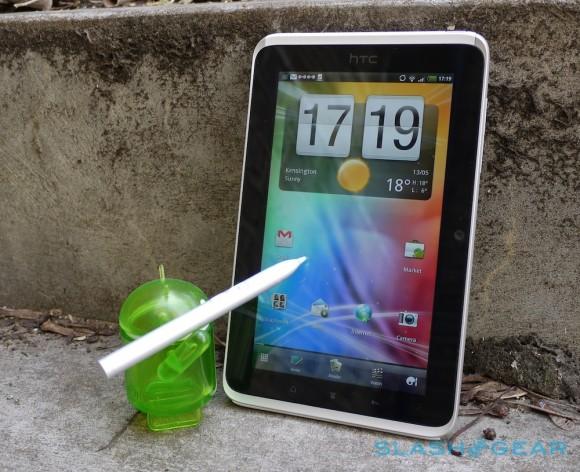 The older HTC Flyer tablet has the same rounded form factor as the tablet on the I/O site seems to, with curved edges that round into a top and bottom bezel. The screen and hand may have been digitally added, so we won't speculate there. Instead, we're looking at the form factor itself. While things like bezels are naturally smaller, the overall design is eerily reminiscent.
Considering we've been hearing HTC will make a Nexus-y tablet, perhaps even an official Nexus 8 tablet, this could be exactly what we're looking at. A revamped Flyer, replete with front-facing speakers. An older HTC tablet reborn with front-facing speakers — which is a very HTC thing to do. It could also be a Nexus 10, but looks a touch small for that. The speakers on both the top and bottom definitely look the part of the Nexus 10, but the size seems a touch off. That could always be a matter of angle, though.
We will be on the ground at Google I/O, so if this one makes an appearance, we'll be sure to let you know as soon as possible. For now, we'll wait to see if Google changes or pulls the image ahead of the conference. That may give us a better idea of whether or not this was meant for our eyes or not.
Source: Google I/O