Google Maps Navigation now available in Mexico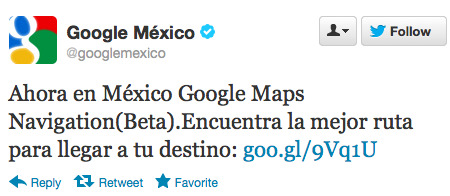 Android Police noted on Wednesday that Mexico had appeared on the list of countries with Google Maps Navigation support. Soon after, Google announced via @GoogleMexico on Twitter that Maps Navigation is now available for Android in Mexico. Users can grab the beta app via the Google Play Store.
Mexico is one of many countries that have been added to the service in the recent past, joining the likes of France, Germany, Denmark, Hong Kong, and dozens of other locations. The app is currently in beta, something it will remind you of frequently when you go to use it. As many users can attest to, however, it works exceptionally well.
Navigation can be launched by tapping the blue triangle icon, at which point one will be presented with a few different options, including viewing starred locations and adding directions. Directions can be either typed or spoken, something more convenient for those times you need last minute help while behind the driver's wheel.
The app can be toggled between driving and walking, allowing users to utilize it in a variety of situations. Certain requirements can be specified when getting directions, such as only routes that avoid toll roads or highways. Navigation can also be used to view a map with one's present location, which is tracked with a blue dot as the user moves around.
[via Android Community]