Google Maps Gets Google Street View On Windows Mobile And Symbian S60 Handsets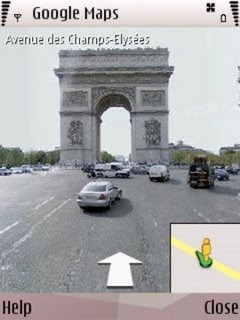 Google is finally sharing the wealth with devices other than the T-Mobile G1, BlackBerry and iPhone. Now users with Windows Mobile or Symbian S60 phones can get street view through Google Maps without using registry hacks. Google has put a large effort into photographing France, Italy, Spain, and Australia just for Google Street View.
In an effort to bring this service to more users, Google has decided to allow Windows Mobile and Symbian S60 users to partake of the fruit because of the huge popularity overseas. This update is contained in Google Maps for mobile version 2.3.
Other than Google Street View, features such as walking directions and transit alerts from participating public transportation authorities have been added to the new release. Google has also done a complete overhaul on the user interface to help make the application more responsive and easier to use. Go ahead and give it a try by downloading the newest version of Google Maps by visiting google.com/gmm now.