Google Maps brings 'Explore Nearby' to Android, iOS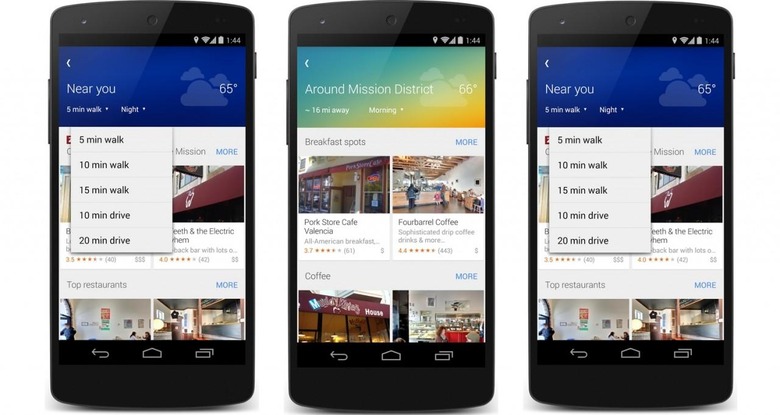 Explore Nearby is a great way to waste time on the desktop version of Google Maps, and it's coming to mobile. Google announced today that they're bringing the feature to both Android and iOS, and it's going to actually get better on mobile. Now, offering suggestions on what to do with your free time will get contextual as well.
The Maps update might bring in Explore Nearby, but that's only half the real story. Instead of fumbling through a long list of places around you, Google will monitor the time of day it is, and even let you dictate what "nearby" means. That way, Google hopes you don't end up going to a Martini bar for lunch — unless you want to:
The results you get in Explore not only tell you what's nearby—and you can decide if "nearby" means a five-minute walk or a 20-minute drive—but they actually change based on context like the time of day and the weather, too. So don't worry about wandering over to a breakfast spot for dinner, or arriving at the park just in time for a thunderstorm.
If you're using an Android device, this feature gets much better. When you arrive at a destination, you can click the "My Location" button and get reviews and other info about your locale. Of course, this works best with location reporting on, and you'll need to be signed into your Google account.
Source: Google