Google Maps Adds Lime Scooters To Transportation Options
Google Maps already supports quite a few transit options, but today it's getting one more. Google has announced that it's partnering with Lime to show the locations of the latter company's scooters and bikes within Google Maps. The roll out is starting small, but should be expanding to more areas soon.
The goal of this team up, obviously, is to give Google Maps users more choices and flexibility when it comes to planning their trips and routes. For instance, maybe you'd ride the bus most of the way to your destination and then opt to find a nearby Lime scooter instead of walking the rest of the way.
Lime will now appear alongside other services like Uber and Lyft within Google Maps' transit options. To be guided to one of Lime's vehicles, all you need to do is tap on the transit icon after you've started navigating to a destination. Under those options, you'll see a listing for Lime, which shows a nearby vehicle and gives you an estimate on how long it'll take you to walk to it.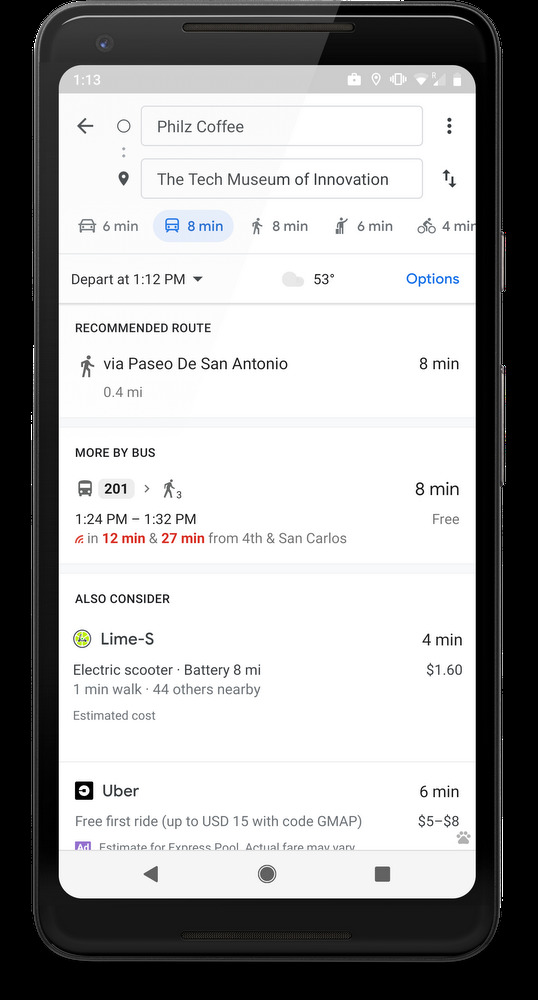 That listing also surfaces a lot of other helpful information, such as whether it's a scooter or a bike, how much it'll cost to rent it, your estimated travel time, and it seems even how many miles the scooter or bike can go on the battery life it has left. You'll see Lime appear in your recommended transit options even if you don't have the app installed – if that's the case, then selecting it from the list will guide you to the Google Play Store or the iOS App Store.
Lime's integration with Google Maps is fairly limited at the moment, as it's only launching in 13 cities around the world: Auckland, Austin, Baltimore, Brisbane (AU), Dallas, Indianapolis, Los Angeles, San Diego, Oakland, San Antonio, San Jose, Scottsdale and Seattle. Google says that more cities will be added soon, so we'll keep an eye out for that expansion.