Google+ major refresh revealed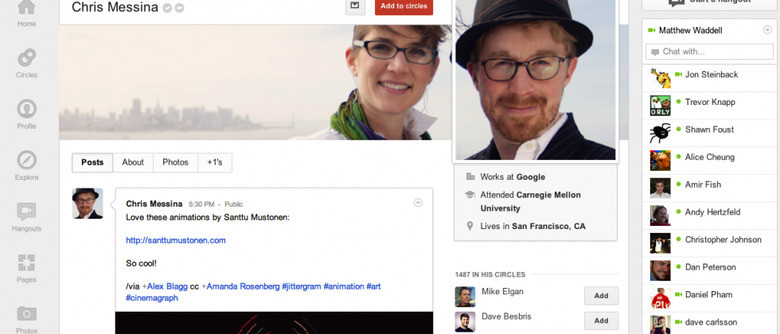 Google's Facebook rival, Google+, is getting a makeover, with a more customizable interface, boosting circle sharing tools and a more polished Hangouts video calling system. The redesigned social network is "simpler, more beautiful" than before, Google's Vic Gundotra says, with the ability to drag apps up and down the new "dynamic ribbon" down the left of the screen, as well as accessing common actions from a hover-over toolbar and the ability to hide little-used apps under a catch-all "more" section.
The new ribbon also leaves room for Google to introduce the next-generation of features, Gundotra says. However, there's plenty to occupy it now: galleries support bigger photos and videos for more immersive viewing, for instance.
Google+ Refresh Overview:
Conversations, meanwhile, are split into "cards" to make dipping into discussions more straightforward, while talk from your own community of circles is pulled together into a new activity drawer. Google's hoping the changes will encourage more sharing, and there's a new Explore page pulling out interesting or trending posts across Google+ as a whole.
Google+ Navigation Ribbon:
As for Hangouts, now there's a dedicated page for the video chats with an always-updated list of invitations from those in your circles. All of the ongoing public hangouts are shown, so that jumping into an ongoing chat is easier, and there's a "rotating billboard" that shows the most popular hangouts along with other news.
The new version of Google+ will roll out to users over the next few days, Google say. More details on the refresh here.