Google+ Local adds Zagat reviews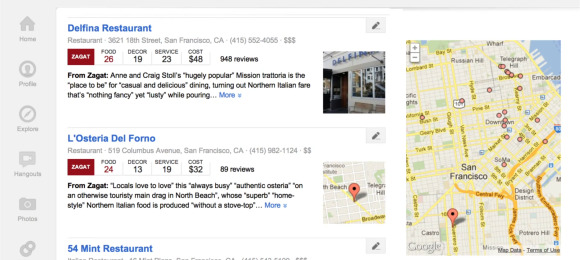 Google purchased Zagat, the restaurant rating company, back in September 2011, and things have been quiet as to what Big Goog would do with the acquisition. All has been revealed, as Zagat reviews have been incorporated into Google+ Local. It's part of Google's push to a more social system, with the Zagat reviews adding on top of recommendations from your friends.
When you search for a listing or restaurant, you'll be given standard search results in addition to friend's reviews and recommendations. If those don't work for you, Zagat reviews are presented as an addition option. The rating system has also been changed, and five-star reviews are a thing of the past. In its place you'll find a 30-point system created by Zagat.
The new changes should be rolling out to Google+ users at the moment, but sit tight if you're not seeing it just yet. Google says that the iOS and Android Google+ apps will also be updated with the new functionality in due course. In the meantime, check out the videos below to get a better idea of the changes.