Google live election hub streams DNC and RNC action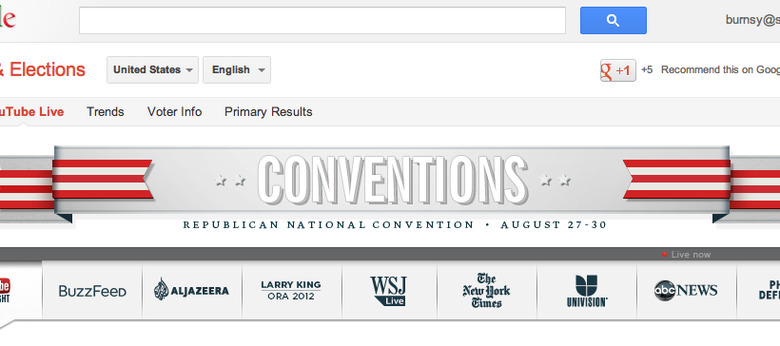 If you're ready for 2012 Election Day here in the United States, you're more than likely fooling yourself – that's why Google has prepared a lovely online voter guide for us all. This guide takes us back to the original presidential nomination convention in 1832 and brings the original sense of democracy back to the common online citizen with a history lesson that eventually leads to your understanding of how to get in on the fun. Google is also providing both the Republican National Convention and the Democratic National Convention with live video streams and social networking so you can stay involved from start to finish.
This Google involvement in the presidential nominations for both of the top two camps as well as the eventual coverage of the final Election Day later this year will have the big G on-the-ground all the way up to your phone. You'll want to start with the Google Politics and Elections site for up-to-date Google News, YouTube videos and live feeds, and Google+ social networking content on the election process.
Also be sure to see Google's Live Election Hub for your collection of both national political conventions as well as content between there and the end of the show. You'll be able to watch debates there as well, and the election night itself will be covered by Google in real time. This interface works from your desktop computer in a web browser of from your mobile device – tablets and smartphone toting a web browser too, that is.
If you're wondering who you might want to vote for, Google has an Online Voter Guide for you to peruse. There's a specific place for those of you voting in special situations like military or overseas for whatever reason. This set of sections will lead you straight to information about your different rules and deadlines as well.
Google is also currently in the process of developing new ways for voters to interact with campaigns and the political and public heads between here and final election day. Be sure to stay tuned to SlashGear as well to keep up to day on big drops!
[via Google]