Google launches search trial that finds receipts and hotel reservations in Gmail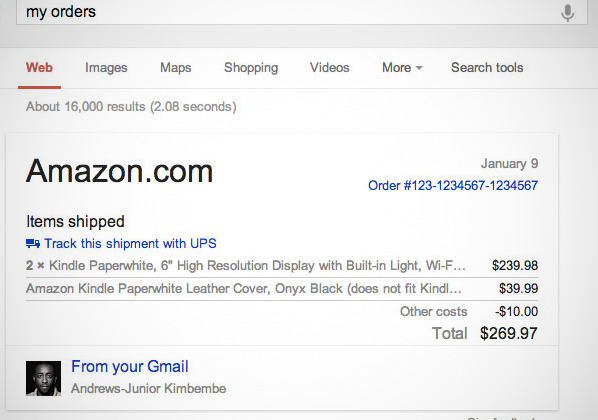 Google has announced that it's expanding its Gmail search integration to now include receipts, events, hotels, and restaurant bookings. The new features are available to anyone participating in Google's field trial, and they add to the recently announced flight tracker and Google Drive integration.
The new search features aren't coming to everyone just yet, only to those who want to sign up for it. The new additions are triggered by simple search terms like "my purchases," "my hotel reservations," or "my events." Google will then pull the relevant information from your Gmail account and display it in a box in your search results.
The new features also work on iOS and Android devices, allowing you quick access to specific information in your Gmail account. It's also worth noting that Google already uses some of these new features in its Google Now service on Android 4.1 Jelly Bean, where it can alert you of flight delays and such, but today's update brings a bit more to the service.
You can sign up to get the new features now, but it's only available to US users and those who obviously have a Gmail address. However, this probably a majority of users. Frankly, we're not surprised that Google is continuing to integrate all of its products together, and we should definitely be seeing more from them in the future on similar endeavors.