Google launches Santa Tracker extension for Chrome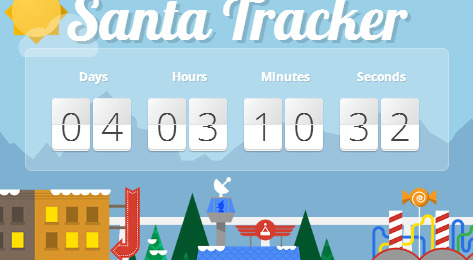 It's that time of year when Santa packs his sleigh full and prepares for the longest all-nighter of the year. Per usual, you and your kids will be able to track Santa's whereabouts at noradsanta.org, keeping an eye on where he's at in the world. To make things easier, however, Google has also launch Santa Tracker, an extension for its Chrome browser that features a countdown timer to Christmas.
Users can download the plugin from the Google Chrome Extensions page. Once installed, a small button featuring a jolly ol' Saint Nick will appear to the right of the URL field. When clicked, a nicely designed banner will fold down over your browser window and display a countdown ticker and festive artwork. The best part are the three buttons along the bottom that pull up interactive items on your desktop.
Clicking the center button causes a star, Christmas tree, and bus to overlay on your desktop. The bus slowly drives from the left of the screen to the right, and honks when clicked. The snowflake button causes Christmas music to start playing and snow to fall down over your desktop as the screen slowly frosts over. Lastly, there's the blimp button, which is like the train button minus the Christmas tree.
Until Santa departs, kids can explore Santa's village, which opens up in the browser and gives kids a variety of fun things to click on. When the timer reaches 0 and Santa takes off, viewers can then track his whereabouts with NORAD. The extension is only available for Google Chrome users, and can be removed by right-clicking after the holiday is over.
[via Google]