Google launches new Google+ features for businesses

With a number of business "going Google," the massive search company has launched the first set of Google+ features for businesses. With this "initial set" of features now available, Google is letting all Google Apps customers get an early look at them in a "full preview mode." This preview allows businesses already using Google Apps to try out these Google+ features through the end of 2013 for free, with Google working to improve its offerings during that time.
There are three features Google is focusing on with this initial offering. The first is giving Google+ users the ability to share posts only with the other people in their organization. This means that users can share information with everyone else at their workplace quickly, without the worry that users in their other Google+ circles will see what they're posting.

The second feature Google is focusing on is Gmail, Calendar and Docs integration with Hangouts. When a video meeting is initiated through Google Hangouts, users have the option of sharing a Google Doc with the rest of the people in the meeting, allowing "colleagues to write or edit a document together from anywhere." Users can also join a Hangout directly from Gmail, and with today's roll out, users can add a Hangout to Google Calendar and join the meeting straight from the Calendar entry.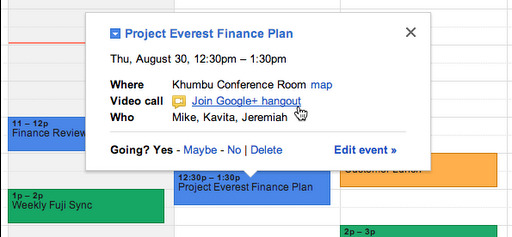 Finally, Google has included a number of administrative features, allowing companies to set defaults for post restrictions for the entire company, or set up restrictions for Hangouts to facilitate private meetings within the company. Google will be rolling out these new features throughout the day, and promises more – including a mobile app – for the coming months. It will also be improving the offered features and adding new ones throughout this preview process. Stay tuned.
[via Google Enterprise Blog]