Google Launches Free Mobile Website Building Tool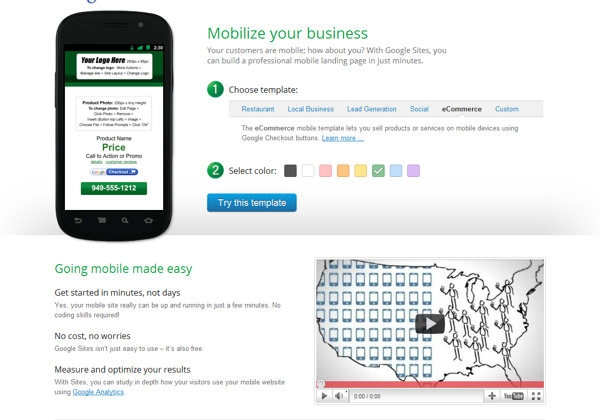 Google's been unleashing a lot of goodies lately. Just yesterday, the search giant released a new attempt at a social network with the Google+ project and then later offered through Google Labs an experimental Flash to HTML 5 converter called Swiffy. And now they've released a new mobile website building tool through Google Sites that targets small to medium sized businesses and is, as usual, completely free.
Google Sites has been offering solutions that allow anyone to easily create a professional, template-driven webpage. The new mobile webpage builder tool now makes it easy for anyone to build a professional mobile landing page. The tool offers several pre-built templates for restaurants, local business, lead generation, eCommerce, and one called "Social" that lets customers engage with your business via Facebook, Twitter, YouTube or other social media services. There is also a template called "custom."
However, there isn't a lot of customization that you can do other than adding your own text and choosing a background color. But overall it should suffice for small businesses that would otherwise not have a mobile optimized webpage. Plus, the eCommerce template is integrated with Google Checkout and traffic for all sites are tracked through Google Analytics. The service is open to all to try and doesn't require that you already have a webpage through Google Sites.
[via ReadWriteWeb]