Google Keep iOS Update Brings Widget, Sharing, No Doodles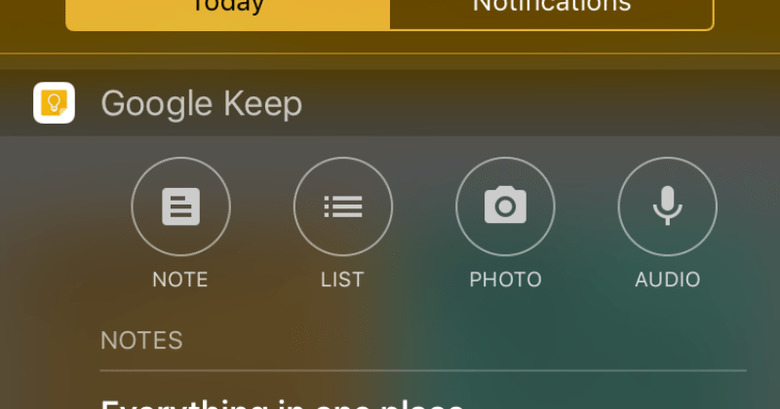 While Google may have an app presence in iOS, it isn't the full monty. Which isn't really that shocking since Google probably wants you to experience its full ecosystem on Android. Still, there are some apps that do deserve to be more ubiquitous, like the simple note-taking app Google Keep. It was actually only last September that Google finally did bring an official version of the app to iOS. Now it's seeing its first major update, but it might not yet be the update you were expecting.
Google Keep is as simple as a note-taking app as you can get. It is no Evernote, that's for sure. It's more like digital post-its and even look the part. Though of course with more freedom in terms of content, like checklists, images, and audio notes. It's meant to be simple, lightweight, and gets the job done without getting in your way.
Just last week, Google rolled out what is probably a major feature to the app. It allowed you to draw on notes. Or to be more technically specific, it allowed you to draw and annotate on image attachments. Plain doodles get stored as picture attachments anyway. Sadly, that is not the update that is arriving on iPhones and iPads. At least not yet. The iOS version of Keep woefully lags behind, but that doesn't mean this update won't exciting for iOS users.
For one, Google Keep finally gets a Notification widget. This means that you can start a note, whether a plain text, list, or image, from anywhere, no matter what app you're using. No need to jump back to the home screen anymore. Second, you can now copy your note to Google Docs, which makes it simpler to transform a simple note into a full blown document later on. And finally, you can now share your notes as well via iOS' sharing extension. Functionality you would have expected from day one, but at least they're now there. Hopefully it won't be too long before Google rolls out the drawing feature to iOS as well.
The note-taking app scene is heating up again thanks to a few conditions. Evernote is seemingly losing its grip on the market, now being called a dead unicorn. Microsoft is pushing OneNote even more, especially with the advent of its new Surface devices. Apple has also given its own Notes app a refresh in time for the iPad Pro's arrival. And now Google is keeping up, pun totally intended, with the competition while things are still hot.
Download: Google Keep for iOS