Google I/O tickets on sale now: Get 'em while they're hot!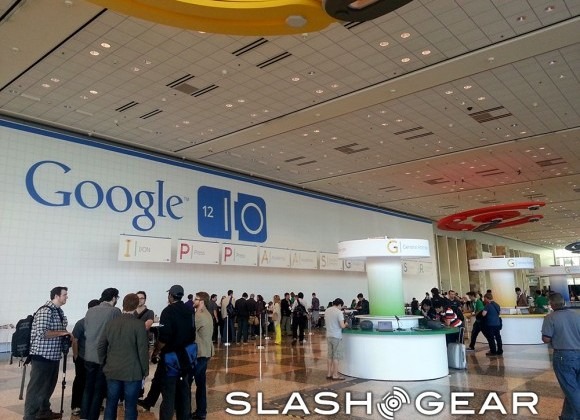 Tickets to Google's annual Google I/O developer event, taking place in mid-May 2013, have gone on sale, prompting the usual mad rush to secure attendance before all seats are taken. Sales began at 7AM PDT across the globe, with tickets priced at $900 for a general attendee or $300 if you can prove you're a student or faculty member; Google says there will be 5,500 I/O attendees this year, with topics of discussion including Android, Google+, Glass, Google TV, and more.
However, another draw for the event has traditionally been the swag on offer. Google-addicts who managed to secure a place generally come home with a bag full of goodies: last year, not only a new Nexus tablet, but the short-lived Nexus Q home entertainment orb.
The real purpose of I/O, of course, is pushing the Google ecosystem, as well as giving the search giant the opportunity to demonstrate its latest and greatest technologies. In addition to the keynote – which SlashGear will be attending, to bring you back all the latest news – there are three days of developer sessions and sandbox groups, where Google's own team mingle with third-party devs.
If last year is anything to go by, tickets to I/O will sell out fast. In fact, 2012 saw all of the spaces taken within the space of thirty minutes, leaving many frustrated. Google has implemented a no-sales and no-transfers policy – in an attempt to curtail touts buying tickets and then auctioning them off for a profit on eBay – but demand still vastly outstrips supply.
The company's advice is to get in line early – you can find the registration page here – and make sure your Google Wallet account is up to date, since that's the only way to pay for a ticket.
"If you're assigned a ticket, you'll have 5 minutes to complete the purchase of your ticket. That's plenty of time, but if you haven't completed your payment in 5 minutes, we'll return the ticket to the available pool. After you've completed your payment, we'll ask you to fill out a registration form. You can take as long as you need for the registration form – there's no clock" Google
Meanwhile, only open one browser, and one tab in that browser, and don't be surprised if you hang about on a waiting page while the system hunts down a ticket. "Expect to be on this page for up to six minutes" Google warns. "On this page, don't refresh your browser or your ticket search will restart."
If you're not lucky enough to get a spot, don't fret. Google will be livestreaming the keynotes and some of the sessions, and there'll be YouTube videos off all of the sessions after I/O finishes.