Google I/O 2016 registrations start March 8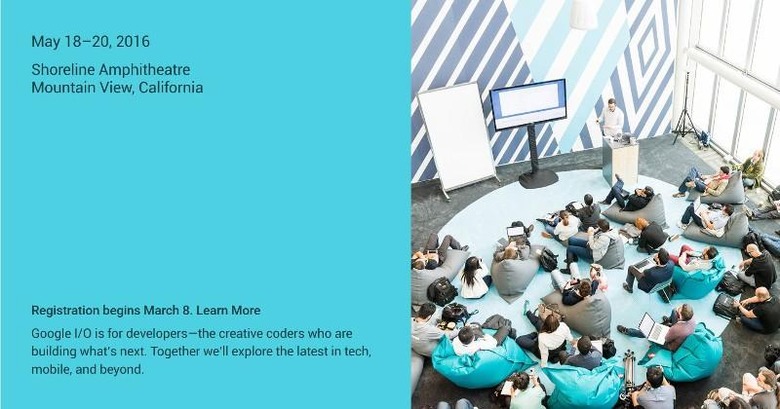 Android and Google fans, get your keyboards ready. It's that time of year again when lovers of all things digital and tech scramble to fill up forms in the hopes of making it to the two-day window and being kissed by Miss Bona Fortuna. Yep. Google I/O registrations will open in less than a week from now, heralding the countdown to Google's main and biggest developer conference of the year. And while I/O this year will be located at a different venue, the mechanics of getting in fortunately aren't changing.
Who can forget the mess that was the registration for Google I/O 2013? Thankfully, the past two years have been rather peaceful and registrants no longer really need to rush. They only need to sign up with their Google account (of course you need one) and fill up the forms. And then start hoping that you get to be one of the lucky few, or really hundreds, to get randomly selected so that you can start the comparatively more stressful logistics of travel and lodging.
The registration windows formally starts 9 AM PST on March 8th and closes 5 PM PST on March 10th. After registrations close, the system will randomly pick qualified applicants and inform them of their good fortune. Tickets are $900 for general admission and $300 for special academic passes.
The 2016 Google I/O website is now up, of course, though it's not exactly filled yet with any relevant content for the conference. Not surprising since the event won't even take place Until May 18 to 20. And just so that you don't get lost, it won't be held at its usual San Francisco venue. Instead, it will be at the Shoreline Ampitheatre, close to Google HQ in Mountain View.
As for what's in store this year, the site isn't telling much, but we can pretty much guess most of it. Android N ("Nori", trolls Hiroshi Lockheimer) will most likely be teased or even pre-announced. Virtual reality will definitely have a big role here. And given the venue, we could even be in for a self-driving car treat.
In the meantime, enjoy some of the highlights of last year's I/O to whet your appetite for 2016's fair.