Google I/O 2015 app is live, go make your schedules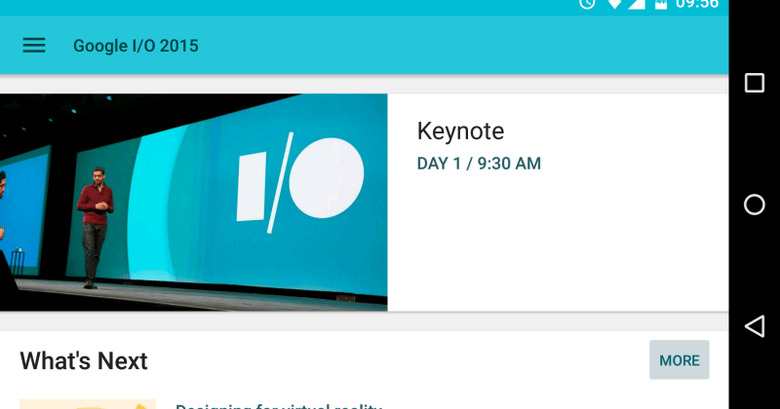 In just a few weeks, two to be exact, Google's main developer conference will be taking place. And to prepare attendees as well as interested onlookers, the company has launched a couple of tools, the last bit being the annual Google I/O app. Both a virtual ticket to the I/O world as well as a reference for app designers, this I/O 2015 incarnation lets you draw up your own schedule for the two-day event, mix and match sessions, and even review the highlights of the previous years.
All the strappings of usual I/O app can be found here. On first launch, the app asks if you will be attending in person or through virtual channels and will change the sessions and information available to match the case. The schedule you tailor to your own tastes and time will be synced with the I/O 2015 web app as well as your Google Calendar if you so wish.
The app already lists the sessions that are already scheduled, though not all of them give the fine details of what's in store. Obviously, there will be Android-related talks, revolving particularly on wearables, cars, and the TV. We've seen some references to Android for Work and we might very well hear about Android M, too. Gaming seems also to be a big thing this year, both on the small and the large with Android TV and Google Cast. Google seems to be making some room for virtual reality but has none for Google Glass. No hints of Project Ara either, though there is plenty of room for surprises.
As before, the Google users the I/O app to also showcase best practices in Android app development, with source code to the app released later on for developers to dissect and study. Aside from the latest Material Design guidelines, this year's app also focus on a Google Now resemblance, with information cards that collect similar content together. Somewhat ironically, there is no direct way to search through all available content, leaving users to fiddle with filters, at least in places where they are available.
Google I/O 2015 takes place May 28 to 29 in San Francisco. Some sessions will be streamed live, which will be indicated in the mobile app for those not attending in person.
SOURCE: Google