Google Home Netflix, Photos integration gets official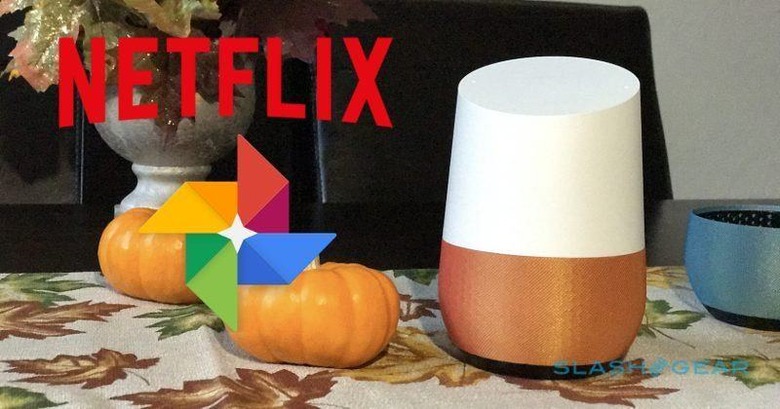 A couple days back we talked a bit about reports that some Google Home users were seeing some new features turn up, but those new features weren't officially announced. The new features include integration for controlling Netflix and Google Photos using your voice. Google has now made the announcement official that Netflix support is here for Google Home.
If you own a Google Home device, all you need to do is say "Ok Google" and then tell the Google Home device what movie you want to see. The phrase is "Ok Google, play Stranger Things from Netflix on my TV" only insert whatever movie or series you want to watch into that phrase. This is all assuming that you have a Chromecast device paired with Google Home and linked your Netflix account.
To link your Netflix account to Google Home,

iOS users: You must be using the latest version of the Google Home app

Android users: You must be using the latest version of the Google Home app AND the Google app. The latest version of the Google app—Google app 6.9 — is currently rolling out and might not be available yet. If it's not available, please continue to check back.

- To check which version of the Google app you're using,

1. Open the Google app.

2. Tap Menu and then Settings and then About and then Version. The version needs to be 6.9 to successfully link your Netflix account. If it's an earlier version that 6.9, you have to wait until you receive 6.9 to start using Netflix.
Once you have the episode queued up and playing, you can also control the playback using your voice with commands like pause and play. Netflix linking is available right now for the iOS app and will be available for the Android app this week. The photo integration has also been officially announced with Google Photos and Google Home working together.
You can say things like "Ok Google, show my photos of Lake Tahoe on my TV." You can also use your voice to view photos even if you don't remember the album name that you placed them into. You can use your voice to search for types of photos like selfies at Christmas or images of sunsets from Brazil.
You need to link your Photos account to Google Assistant for Photos to work and you have to link your Netflix account for the Netflix integration. Just for Christmas you can also use Google Home to track Santa by saying "Ok Google, where's Santa right now?"
SOURCE: Google