Google Home Mini revealed in miniature fashion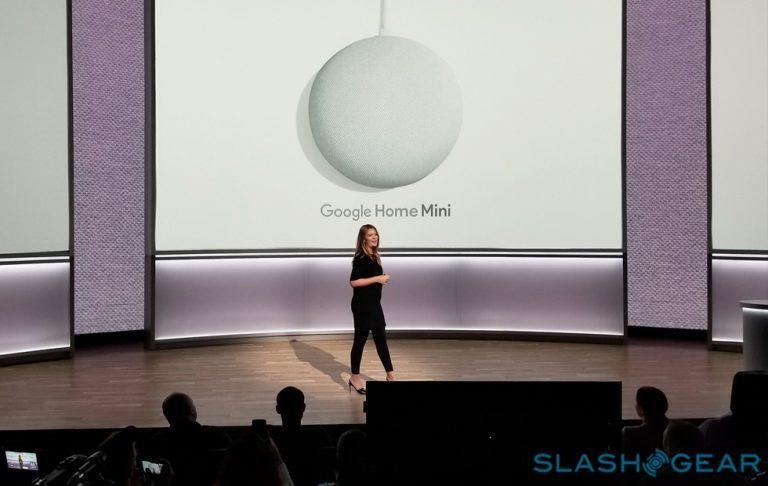 The Google Assistant has a new home as of this morning as the Google Home Mini was revealed at the company's big Pixel 2 event. This diminutive relative of the original Google Home has most of the abilities of its larger brethren, but in a much smaller package. This device is plugged in with a single USB cord and has a switch at its side to turn on or off whenever the time is right.
Inside this device is a set of four LED lights, these letting the user know when the device is active, connecting, speaking, etcetera. This version of the Google Home is slightly less versatile than its larger brethren, here coming in one color combo while the larger can switch for seasons.
This tiny device (without the cord) is right around 4.53 x 4.53 x 4.72 inches. It weighs in at less than a pound and requires a USB cord to power its battery. This device connects to the web with 2.4GHz and 5GHz Wi-Fi as well as devices through Bluetooth BLE (Bluetooth Low Energy).
Inside this device is the Google Assistant, or just Google Assistant, if you prefer. The newest version of Google Assistant connects to countless devices and provides connectivity to the bountiful plethora of information available on the internet, as well as in Google's own coffers. This device also allows Google Assistant to connect to the user's Google account to access the Google Calendar, reminders, and services of many sorts – like Google Music.
"We design for the spaces we live in," said Isabelle Olson, lead designer for Home hardware, "and we use the materials that people already use in their homes."
This device will be available for a cool $49 USD and will be available everywhere the original Google Home is already on sale. This device will come in three colors – white, black, and a bright Coral. The black is called Charcoal, while the white is called Chalk. This device should appear in the Google Store online immediately if not soon.