Google Home Mini Given Away To Some Users In These Apps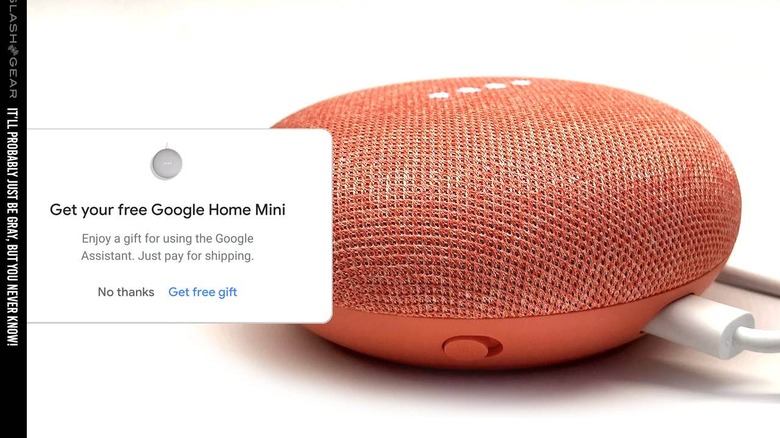 A select number of Android users over the past day have seen Google show them a pop-up with an image of a Google Home Mini. This pop-up – or block, rectangle, whatever you'd like to call it – included the following text. "Enjoy a gift for using the Google Assistant," said the Google note, with the one catch: "Just pay for shipping."
Google Home Mini appeared for some subscribers of Google's YouTube Premium in some regions of the world over the past week. This release was regional in its first wave, per reports this week, aimed at Germany and Austria. Users in Germany and Austria that were eligible for the "offer" from Google will have gotten an email or in-app notification. These notifications happened as early as October 1st, 2019.
The offer spread this week to the USA per a tip set in report this morning. This update with a free Google Home Mini seems to be hitting users in multiple regions, and not only for those users that already pay Google a monthly fee for a subscription service.
Early reports seemed to be centered on YouTube Premium, now similar messaging has appeared in the main Google app. You'll want to check the following apps for this notification:
• Google App (Search)
• Via Google Assistant
• YouTube (with/without YouTube Premium)
• Google Drive*
• Gmail (in an email from Google)
*Thus far we've not seen screenshot confirmation of this notification in Google Drive, but we HAVE seen evidence that Google is also targeting subscribers to Google One. If you see the Google Mini in-app notification or email, let us know the region in which you reside!
Also note that this sort of giving away of products from Google is not new. They've generally done send-offs of products like these when they've got an ever-so-slightly newer device in the wings. We'll likely see the next Google Home Mini speaker (with whatever name it'll have, like Google Nest Mini), at the event next week – as seen below!