Google Glass owners receive shareable invite as Explorer Program enters next phase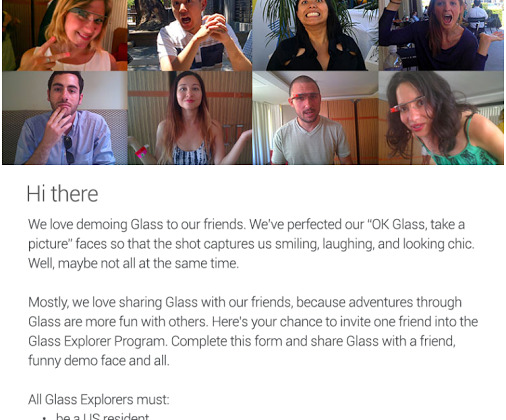 On July 3, Google published
FAQ addressing questions about the device, doing so
on its latest round of Glass invitations. As part of the update, Google said it was bringing the #ifihadglass program to a close, and was looking into other ways it could get glass into more hands. Today we're getting a look at how that will happen, with current owners receiving an invitation to share with one friend.
The first round of Google Glass owners placed their order at the 2012 Google I/O conference, and the rest of the owners scored their pair through Google's rather lengthy #ifihadglass contest, which allowed people to share an idea for how they'd use Glass for a chance to get their own pair. As promised, the availability is being expanded again, this time giving current owners a chance to get someone else Glass.
The invites appear to be rolling out in waves, with some owners not having yet received their own email. The invitation is simple, and starts off with a salutation, followed by casual banter about selfies taken with Glass. From there, the owner is invited to give one friend an invitation to join the Glass Explorer program.
There's a form included with the invite for the owner to invite a friend. "Mostly, we love sharing Glass with out friends, because adventures through Glass are more fun with others. Here's your chance to invite one friend into the Glass Explorer Program. Complete this form and share Glass with a friend, funny demo face and all."
There are a couple stipulations the owner will need to make sure their friend meets to avoid having their invitation go to waste, namely that the friend must be at least 18-years-old. In addition, the individual must also be located in the United States, and will need to be able to pick up their device in person in one of three locations: New York, LA, or San Francisco. There's no mention of pricing, but likely those invited with have to pay the same $1500 USD price tag as the rest of the Explorers.
SOURCE: