Google Glass features team panorama easter egg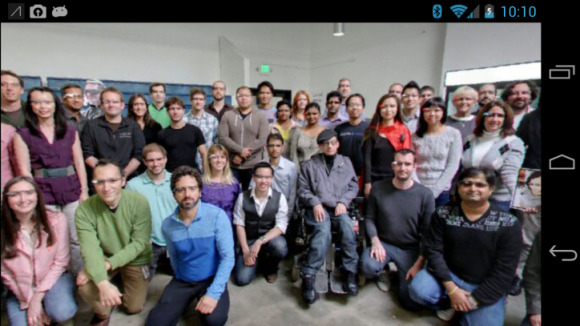 Google is no stranger to easter eggs – hidden items and fun things within its products for customers to find and enjoy. The first easter egg nestled in Google Glass has been discovered in near record time by one of the Explorer adopters. When following a specific series of actions, users will be presented with a panoramic image of the team that was responsible for creating the device.
The easter egg was discovered by Glass Explorer-edition owner Jay Lee, who stumbled across the hidden image while playing with his device. He took screenshots of the panorama and uploaded them to Google+, where he announced his discovery along with instructions on how other Google Glass owners can pull up the easter egg for themselves.
According to Mr. Lee, you'll need to head into Settings > Device Info > View Licenses. After the license file opens, begin tapping the touchpad nine times in a row – you'll know the process is working because of a beep that sounds with each tap, growing higher in pitch with every touch. Upon tap #9, you'll be presented with a panorama of the team responsible for the device.
The discovery was followed up with a statement by Google software engineer Mike LeBeau, who said he snuck the panorama onto the device as homage to his team. Said LeBeau: "I always put an easter egg into whatever I'm building – but that was fast! I'm shocked that our Explorers found it this quickly!" And now the hunt is on for Glass easter egg #2.
[via Living Thru Glass]