Google Fiber used to throw MLB game's first pitch from 1,800 miles away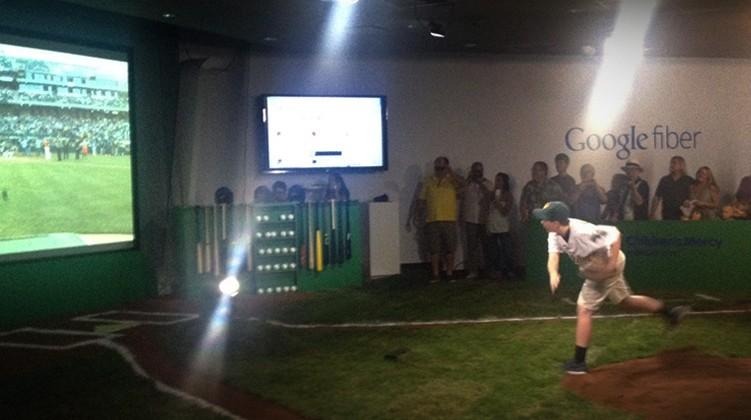 Kansas City resident Nick LeGrande, who is 13 years old, threw out the ceremonial first pitch before an Oakland Athletics vs. New York Yankees game earlier this week. What made it so special is that the pitch was thrown from 1,800 miles away using a combination between a robotic pitching machine and Google Fiber.
LeGrande suffers from a life-threatening blood disorder called aplastic anemia, which has weakened his immune system, rendering him incapable of attending baseball games. So, as a gift for his upcoming 14th birthday, LeGrande was able to virtually throw the first pitch at an Oakland Athletics game, since LeGrande is a huge A's fan.
When Oakland A's pitcher Ryan Cook heard about LeGrande's condition and his loyalism to the A's, Cook called in a few favors and set up a robotic pitching machine connected to a custom-built miniature baseball diamond that was set up in Kansas City at Google's Fiber headquarters. The super-fast fiber optic internet connection would allow LeGrande to throw a pitch and have that data be sent to the pitching machine in real-time.
At home in Kansas City, LeGrande threw the ball, and at the stadium, the robotic pitching machine mimicked his motions, throwing out the first pitch of the game. Cook sat at home plate to catch the ceremonial first pitch. Furthermore, LeGrande was hooked up to a two-way video chat system where the pitching machine also a camera mounted on it, so that LeGrande could see what was happening to make it feel like he was actually there.
Of course, LeGrande received a standing ovation from players and the crowd, and LeGrande received the best present any 14-year-old would ever receive. Granted, I'm sure the moment would've been even more great for LeGrande if he was actually there in person, but the ability to throw a pitch from 1,800 miles away makes the moments even more special.
VIA: ESPN
SOURCE: Google Fiber