Google Fiber teases 2 Gigabit Internet plan with testing this fall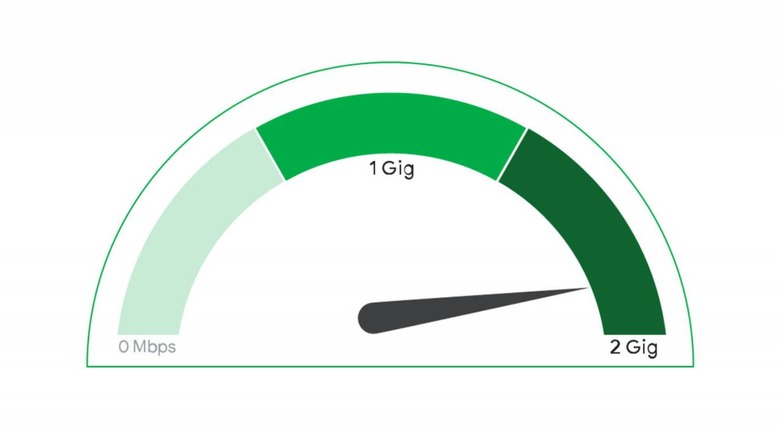 While many people are still living with Internet speeds below 100Mbps, Google Fiber is gearing up to roll out an even faster option to its existing 1 Gigabit plan. In an announcement on Monday, Google said that it plans to start testing a new 2 Gigabit Internet plan with select customers this fall, paving the way for a faster speed option that won't cost much more than what Internet customers are already paying.
Google Fiber started offering its 1 Gigabit Internet speed way back in 2010, though most consumers in the US couldn't get that option. Times have changed rapidly and 1 Gigabit Internet options have grown substantially all around the world, including in the US, where Google will soon start testing a 2 Gigabit option, the company announced in a blog post today.
The pandemic underscored just how important the Internet is — many have turned to streaming services for entertainment and video chatting apps for collaboration. At the peak of lockdowns, big companies like Netflix even had to take steps to reduce bandwidth usage due to the massive demand. Google
the 'unprecedented demand' in its blog post, stating that it will launch a 2 Gigabit plan to address that need.
The Google Fiber 2 Gig Internet plan will be priced at $100/month and will include a new WiFi 6 mesh extender and router. "Google Fiber networks are designed so there's plenty of capacity to allow our customers, with the right in-home hardware, to reach 2 Gig (and even faster) speeds," Google says, explaining that its network design has made this new offering possible.
The big question, of course, is how can you get this new plan? The product will launch first in Huntsville and Nashville for Google Fiber customers to test, according to Google, which plans to expand the test into additional Google Fiber cities this upcoming autumn season. Anyone interested in testing the plan has the option of
the Google Fiber Trusted Tester program. Most Google Fiber cities will get access to the 2 Gigabit option next year.