Google Fiber hits Kansas City in just over a week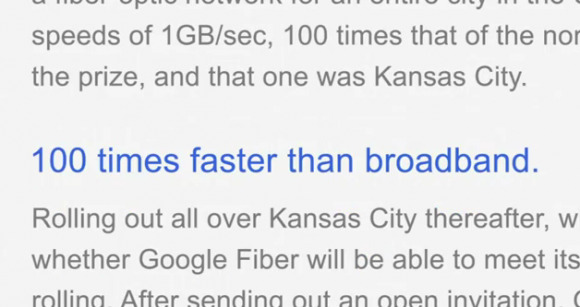 The folks in Kansas City, Kansas here in the United States are about to get the web at 100 times the speed most Americans have on average today. The release date for Google's Fiber program has been set today at July 26th, a little over a week from today, this just a bit more than a year since the project was first announced. With speeds this fast, we'll have to see what the city will do it it all – perhaps streaming video will become more popular than television at a rate greater than the rest of the world – speedy!
Though this announcement doesn't include one whole heck of a lot more information on the system than we saw at the launch of this project, we can see that the end-goal for the situation is what Google set out for it to be. As Google vice president of Access Services Milo Medin said back in 2011, Google's goal was and is, "is to deliver Internet speeds more than 100 times faster than what most Americans have access to today."
Those of you in Kansas City that want to take part in this system can sign up at Google.com/Fiber – and Google will also be bringing more information on the project on the 26th of this month as well. For now have a peek at the presentation video that acts a bit more like a commercial than anything else above, and get ready for speed!
Have a peek below at our timeline of the history of Google Fiber as well – come to Minnesota next, please!