Google exec shows off car collection in best way possible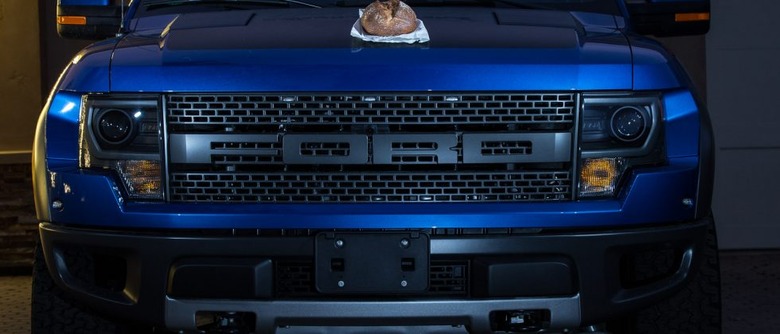 The vice president of engineering at Google, Benjamin Sloss Treynor, is not only smart and rich, but it turns that he loves cars as well, and he has a mighty-fine collection to prove it. It also turns out that Treynor is a regular member on the SVT Performance forum where he likes to show off his car collection to the world, but recently, he was asked to prove that he actually owns the cars he's posting on the forum. He happily obliged, and even included bread in his photos as a joke.
Treynor started a thread on the forum back in April where he posted photos of his cars, but recently, a forum member asked Treynor to prove that he owns a Ford Raptor, a Ferrari 458 Italia, and a McLaren 12C Spyder by taking pictures of the cars with pieces of bread on the hood. The bread part was more of a slight joke than anything, but Treynor obliged and posted photos of all three vehicles with different types of bread corresponding to the country that the car is from.
For instance, included with the Raptor was a loaf of New York rye bread with the caption, "Nothing says 'USA' like 'FORD', and what better pairing than a great loaf of New York Rye?" With the 458, Treynor paired it with some classic italian bread, saying, "Nothing complements the smell of fine Italian leather like the smell of fresh Italian bread!" And finally, with the McLaren 12C Spyder, Treynor plopped a crumpet on the hood and said that the "the art and science of the British sports car lives on at McLaren, and nothing says 'God Save The Queen' like crumpets!"
Obviously, this shows that Treynor is not only smart, wealthy, and that he loves cars, but he has a real sense of humor that's greatly appreciated. He's also the same Google executive who won the auction for a Ferrari 599XX Evo that was being sold to benefit victims of the earthquake that hit northern Italy earlier this year.
[via Jalopnik]