Google Earth Heads To A Bunch Of New Browsers Today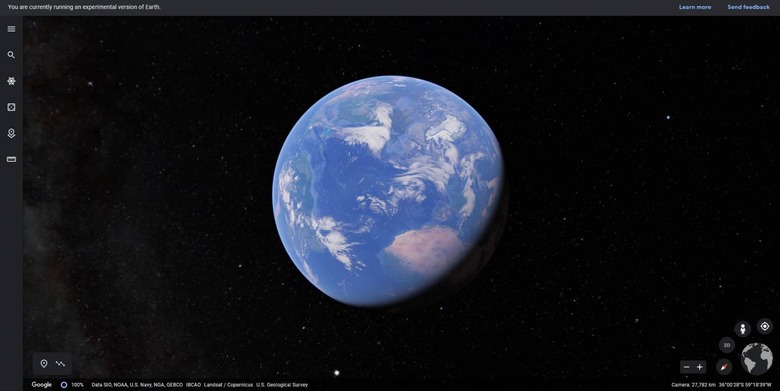 Google Earth can be a handy – or at least fascinating – tool to use, and though it's available as an iOS and Android app, its web implementation has been fairly limited. Thus far, Google Earth on the web has only been available through Chrome, and though Chrome is a popular browser, that ultimately limits the number of people who can access Google Earth on the web.
That's all about to change. In a new blog post on Medium, the Google Earth team announced that the tool is coming to a number of new browsers today. Beginning today, you can access Google Earth through Firefox, Microsoft Edge, and Opera in addition to Chrome.
Why now, and what took Google so long to bring Google Earth to other browsers? As the team behind it explained today, Google Earth was initially built on Native Client, which mean it's only worked on Chrome. Though Google has stuck with Native Client since that initial launch on web, the Google Earth team recently moved the Chrome version to WebAssembly.
This opened up a lot of doors for porting Google Earth to other browsers. In regards to why it took Google so long to bring Earth over to other browsers, the company said that for a long time, Native Client was "the only way we could make that Earth would work well on the web." Times have changed, however, with Google saying that "WebAssembly has emerged as the leading open standard, with browser support maturing greatly over the past few years."
I've taken Google Earth for a quick spin in Firefox and it seems to be working pretty well, but from here, Google says that it will continue polishing the app across all browsers. Support for Safari is also planned for the future, but we don't know when it will go live. We'll let you know when Google shares more details, so stay tuned for that.