Google Drive for Android updates with document scanning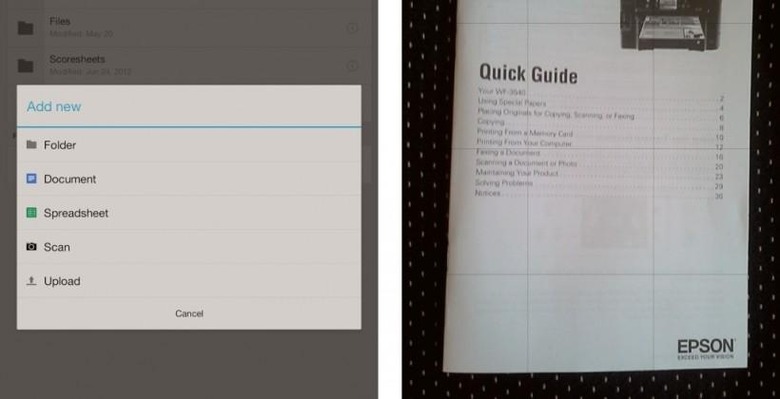 Google Drive for Android received a big update today with "a clean, simple card-style" layout, as well as the ability to scan documents, receipts, bills, etc. The new feature also comes with Optical Character Recognition (OCR) technology that will allow you to easily search for said documents later, thanks to the ability for Google Drive to recognize text in a scanned document.
This is a huge boost for Google Drive, in a way that the service can now be used as a digital file cabinet of sorts, whereas before it was merely just a cloud storage system to stash all of your Google Docs and other various files. With document scanning, Google Drive takes Evernote and other note-taking apps head on.
The feature is pretty self-explanatory, in that you simply tap the "+" sign to add a file and tap on "Scan." From there, you take a snapshot of a physical document and Google Drive will automatically save it as a PDF file and upload it to your Drive account. You can also crop and rotate the snapshot before you upload it to your Drive.
Currently, Evernote remains one of the top note-taking and document-archiving services around, and its scanning abilities, as well as its OCR text recognition is one of Evernote's most popular features. Google Drive can certainly give Evernote a run for its money, especially since it automatically saves docs as a PDF and you can download them easily — Evernote can do the same, but it's a bit tricky to figure out at first.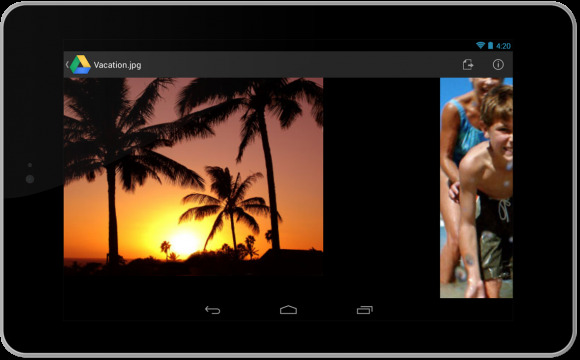 Of course, we can't forget about Google Keep, which is the search giant's new note-taking app that also competes with Evernote. Keep allows users to scan business cards, although it hasn't been touted as one of the bigger features of the app. In any case, this changes the game for Google Drive, and makes archiving physical documents a whole lot easier — a process that we would never think about using Google Drive for in the past.
As for other new features in this Android update, there's a new grid view that shows thumbnails of your various files. The app also now includes the ability to download files locally to your phone, but it requires Android 3.0 Honeycomb and higher. Furthermore, the Spreadsheet editor now supports changing fonts, colors, and cell alignment. And as always, there are a handful of bugfixes and general performance improvements. The update is available now.
VIA: Google Drive Blog