Google Doodle Bach tribute is its first ever AI experience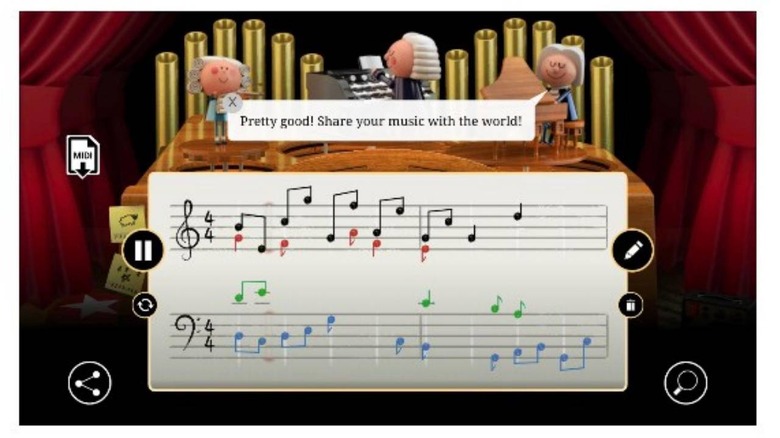 Ever dreamed of creating a musical masterpiece that would be remembered for centuries but don't even know how to play an instrument? While not everyone can be like the famed Johann Sebastian Bach, we thankfully now have technology that can turn even the most random of notes into a melody that may be worthy of an orchestra performance. At least if you use Google's upcoming Doodle tribute to Bach, which not only marks the musician's 334th birthday but is also its first ever AI-powered interactive experience.
What the Google Doodle will offer tomorrow is almost magical in its simplicity. You put down a few notes, whether randomly or inspired by your muse, click a button and wait for the Doodle to "harmonize" those and transform it into a four-voice piece that bears the hallmarks of Bach's musical signature. Of course, nothing happens by magic but the technology behind might as well be to most folks.
Powering the doodle is machine learning which, in a nutshell, tries to learn rules on its own by analyzing hundreds if not thousands of data samples. Bach's music is almost a perfect match for this kind of learning because they follow some concise rules and structures. Most of his work involves four voices, each with its own melody, that together creates a harmonic progression.
For this particular project, the Doodle team created the art style and the interface but also sought help from other Google teams for the brains of the experience. The Google Magenta team, which focuses on applying AI and machine learning to music and art, created a machine learning model that was fed 306 Bach chorale harmonizations. Google PAIR (People + AI Research) then used Google's TensorFlow.js to allow the AI to run on web browsers directly rather than offloading it to a remote server.
Google Doodle's first AI interactive experience goes live tomorrow, March 21, to celebrate the musician's impact in the arts and on the world in general. Bach's music was even "revived" recently and given an 80s rock flair, which you can also try out with an Easter egg hiding somewhere in the screen.