Google Docs research pane expands to Presentations and Drawings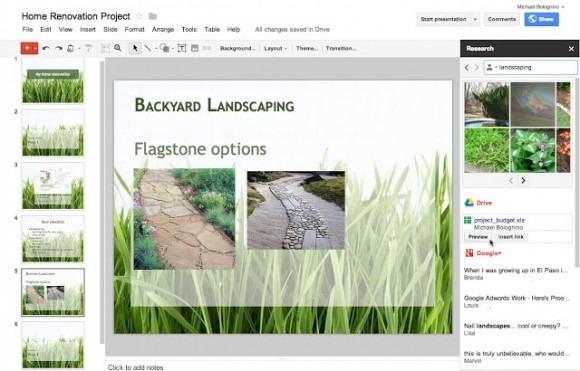 Back in May, Google added a new research pane to Google Docs, offering the ability to search for any topic and get results without having to leave the document you're working on. It's a small feature, but helps save time and makes it easier for users. Today, the search giant has added the research pane to Presentations and Drawings.
When putting together a presentation or sketching up a drawing in Google Drive, users can now use the research pane to search for content and help them with their project without minimizing or opening up another window. For example, you can add a photo from your Picasa album, or grab a quote from a friend's Google+ profile and paste it into your project, all from the same window.
Just like when the research pane was first introduced, Google Apps users will still only be limited to web-only search results, since personal content search is intended for individual accounts only. However, most students for which this feature would benefit usually only have individual accounts anyway, so the limitation probably isn't too much of an issue.
If you find that you're not a big fan of the research pane and it's just taking up precious screen real estate, you can easily toggle it on and off right from your document. However, those who heavily rely on the Google ecosystem will no doubt get some great use out of the new feature, and it's a time saver that'll shave a few minutes off of your project work session each time you use it.