Google adds new Research feature to Docs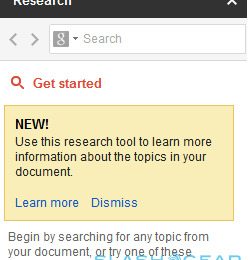 Google has added a new Research bar to Google Docs today. A new option for Research has been added under Tools, or by using the Ctrl+Alt+R shortcut, allowing you to search Google for topics of interest while writing an article or paper. Options include being able to search all of Google, or restrict searches to images and quotes. The bar sits to the right of your document while writing so as not to disrupt your workflow.
Searching for a topic gives you a stripped down results browser, which then presents you with several options. You can preview the link to make sure it's what you're looking for, insert the link into your document, or cite the website which will automatically create a footnote. Image results are presented in a similar way, and you can drag images from the Research panel straight into your document.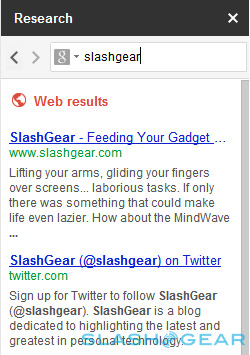 Quotes also work in the same way, and can again be inserted straight into your document with a author and link attribution automatically created. Maps and places have similar functionality, although map scales can be manipulated to give the best preview possible. The new feature should be rolling out to Google Docs users shortly if you don't already have it.