Google Docs enhanced for Android tablets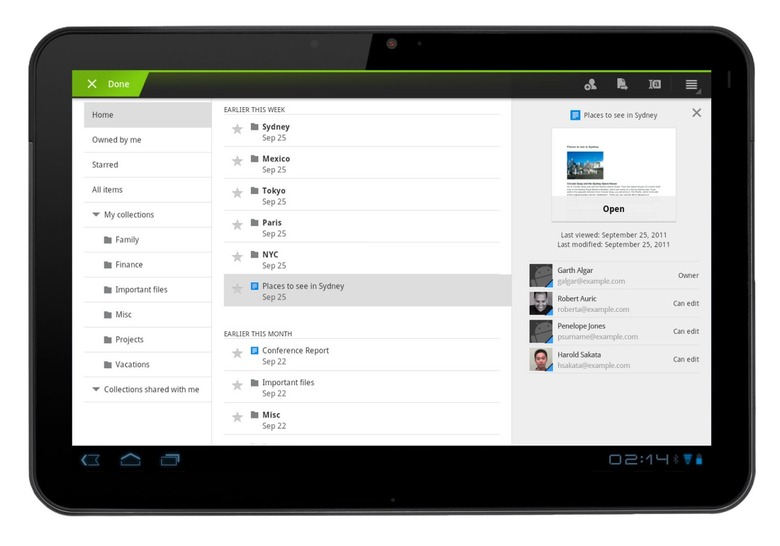 It was less than a year ago that Android first saw the official Google Docs app, and just this week we're seeing, for the first time, tablet optimization. When you've got a bigger screen, you've got much more room to add columns, rows, bigger content, and MORE content. That's what the folks at Google know, and that's what they've delivered. Experience for yourself the loveliness of the official Google presentation of a large-format Google Docs on tablets.
Instead of creating an entirely separate app for Honeycomb, the friendly people at Google in their labs creating sweet creations have infused the functionality into the original app, thus creating an app that has the ability to look and feel great on any sized display. Three panel view exists now, allowing you to see separations between folders, documents, and the contents of those documents all at once.
Thumbnail previews are included all the way on the right, while tapping a preview brings you into a much larger view for editing. This app is currently available in 46 different languages and the features are functional on tablets with Android 3.0 and above, while when used on handsets the functionality reverts to the handset look. You can download the app completely for free from the Android Marketplace.
That said, we must assume that this app is set to go for next week's reveal of the Galaxy Nexus and Ice Cream Sandwich, the newest version of Android, one that ties together both the Honeycomb OS for tablets and Gingerbread for handsets. We'll be there LIVE to let you know the true business! It's a winning combination, and it's pumped up for Docs!
[via Android Community]