Google Docs Android App Launched, Uses Phone Camera For OCR Text Capture

It's surprising how long it has taken for some of Google's primary products to get an app version for their Android platform. Today, the Google Docs product of services has finally gotten its app launched and will bring easy editing and sharing of documents to your mobile device. Now you really have no excuse for not finishing work while on the go.
The app will make it easy for you to filter and search for your content across any of your Google accounts and jump straight into editing via the online mobile editors. Your documents can also be easily shared with contacts on your phone from within the app. Additionally, content can be uploaded from your phone, documents can be directly opened from Gmail, and shortcut widgets can be added to the home screen for your most common tasks.
But perhaps the standout feature is the integration of OCR (Optical Character Recognition). This feature along with the use of your phone's camera can convert photos with text into editable documents. The process is as simple as tapping the "Document from Photo" option or selecting the camera icon from the widget. The converted document will appear in your documents list ready for editing. Photos already stored on your camera can also be converted via OCR.
The Google Docs app works for smartphones with Android 2.1 and above. It is available for download at the Android Market.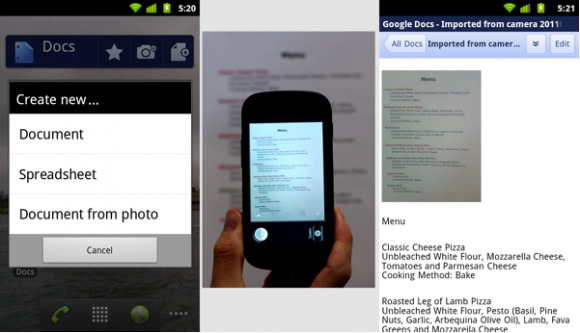 [via Android Community]