Google confirms no plans for retail stores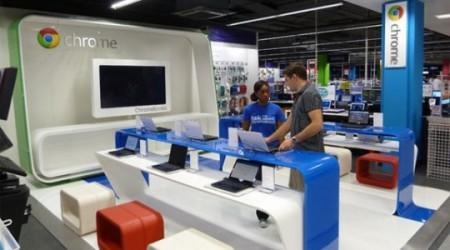 Earlier this month we heard chatter that Google may be introducing a line of retail stores in order to promote its physical products, like various Chromebooks, Nexus devices, and their upcoming Google Glasses. However, Senior Vice President of Mobile and Digital Content Andy Rubin says that there's no need for Google retail stores since most consumers don't need to try out a device before they buy it.
Rubin also says that Google's hardware is still too young to even be considering the thought of retail stores. Rubin doesn't think that the Nexus program "is far enough along to think about the necessity of having these things in a retail store." The same goes for the company's Chromebook lineup.
As for Rubin's comments on not having to actually go into a store to play around with a potential purchase, he says that many shoppers can get the information they need about a product either online or through friends that have used or own said product. The growth of the internet community and all kinds of reviews makes it easier to research different products.
Of course, you never know what could happen in the future. Companies change their minds, so while Rubin says that Google has "nothing to announced," that doesn't mean that won't be the case a few years from now. A Google storefront is always a possibility, and it's an idea that doesn't sound too crazy at this point.
[via Android Community]