Google Chrome OS gets detailed [Video]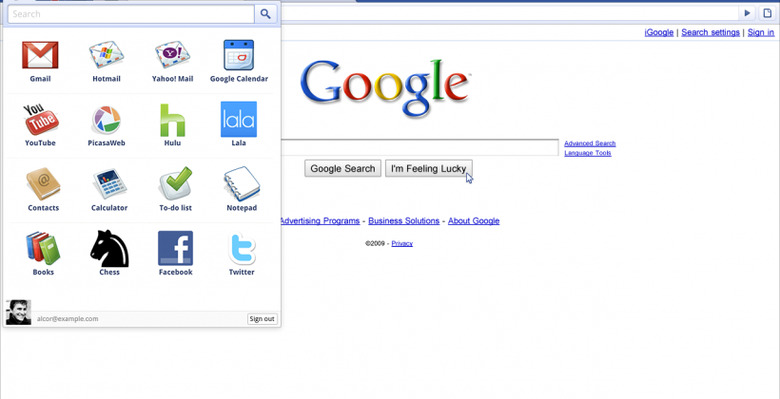 As expected, Google have released launch details about the Google Chrome OS platform, though there is no beta release today nor any netbooks actually running the OS to announce.  The company intend Chrome OS to boot almost instantaneously, similar to a TV experience, and in fact it currently loads in just seven seconds; system stability and security is also paramount, with an encrypted user-data section, self-healing OS and complete cloud storage for files.  While there's no beta available today, Google is making the source code available for developers to download, compile and install.Video overviews after the cut
There will be no local applications, only web apps using HTML5, but Google are working on giving them access to the sort of system resources – such as GPUs for hardware Flash acceleration – that local software currently have.  There'll also be more extensions for the Chrome browser itself.  Google will be able to better manage the spread of malware, since everything is installed remotely rather than locally (in fact Chrome OS can't actually change files on your netbook's hard-drive, since the boot partition is read-only), and users should be able to log into another Chrome OS system and instantly have their regular work environment.  Similarly all the tabs from the previous session are maintained.  Google use a "verified boot" system whereby Chrome OS' cryptographic signature keys are checked to make sure no malware has infected the system; should something still get through, however, there's an automatic recovery procedure to fix it.  The entire OS will automatically update as improvements are developed.
The UI is still subject to change, but will consist of tabs and various app menu panes, together with so-called persistent windows for things like Google Talk.  Rather than being able to drag windows pixel-by-pixel, they will either snap against the edges of the screen or each other, be shown in split-screen mode, or in full-screen.  Across the top of the display are five pinned application tabs, which currently link to things like Gmail, Facebook and the like.  In the top left-hand corner is the primary apps menu, with a search box, the ability to create new tabs, windows and bookmarks, together with the sign in/out functionality.  While at present it is a pull down menu, there's talk of switching it to a full-screen tab or partial-screen overlay.
Plugging in peripherals, meanwhile, such as USB drives, webcams or cameras, opens up a new tab with the contents or functionality of that peripheral.  Google are still optimizing the code for even faster boot times (the shipping netbooks using Chrome OS will use solid-state storage for speed gains), as well as producing more webapps; currently there's Hulu, PicasaWeb, YouTube, a Google music app, Notepad and more.  As for the platform itself, Google Chrome OS is expected to come out fully in around a year's time, with machines from the top OEMs on the market before the 2010 holiday period.  As for the hardware itself, it will only use SSD for storage, and in fact Google have produced a reference design for manufacturers, with specific WiFi cards and other components supported.  Netbooks will be the first wave, either x86 or ARM based, but Google are not counting out Google Chrome OS powered notebooks and desktops at some point in the future.
Google Chrome OS overview:
Google Chrome OS fast-boot:
Google Chrome OS security:
Google Chrome OS & Open Source: