Google Chrome ad blocking: What you need to know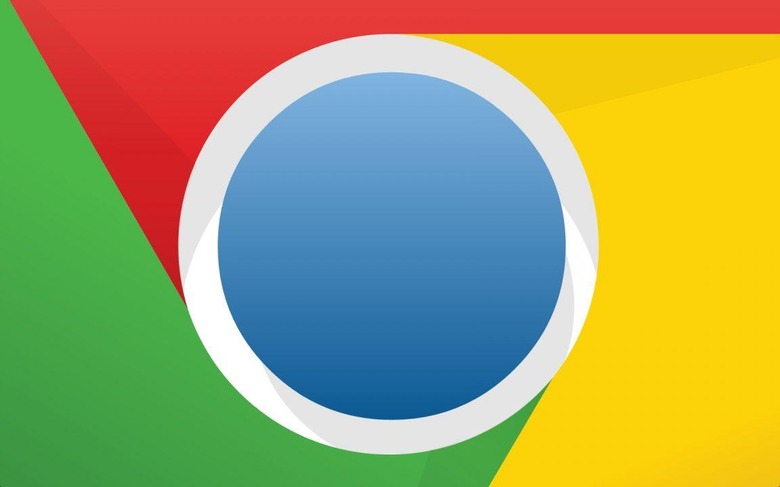 A day of reckoning is nearly upon us. After announcing that it was preparing an ad blocker for Chrome way back in June, Google is finally ready to send the feature live. This is a big step for Chrome users, as it will block some of the more annoying advertisements you're likely to encounter as you make your way through this wonderful internet of ours.
The first thing you should know about Chrome's new ad blocker is that it obviously isn't going to block all of the ads you see on the internet. Google has little interest in doing that, as it relies primarily on advertising to make that cold hard cash. Instead, Chrome's ad blocker is geared toward stopping specific types of ads from appearing on desktop and mobile.
Which types of ads this blocker will take issue with depends on what platform you're using to browse. On mobile, we'll see quite a few more types blocked, owing to the potential for annoying ads to eat up much more of a smartphone's small display space. In both cases, the ads that Chrome will block are aligned with the Better Ads Standard from the Coalition for Better Ads, of which Google is a member. What follows are the ads that violate the Better Ads Standard.
Mobile
The Better Ads Standard recognizes eight different types of problem ads on mobile, and beginning tomorrow, Chrome will start blocking all of them. Pop-up ads, perhaps the oldest enemy of the internet user, tops the list, followed by prestitial ads (full screen ads that load before the webpage does) and auto-play video ads with sound. Keep in mind that autoplay video ads that play muted are seemingly acceptable, so this won't exactly be the end of video ads altogether.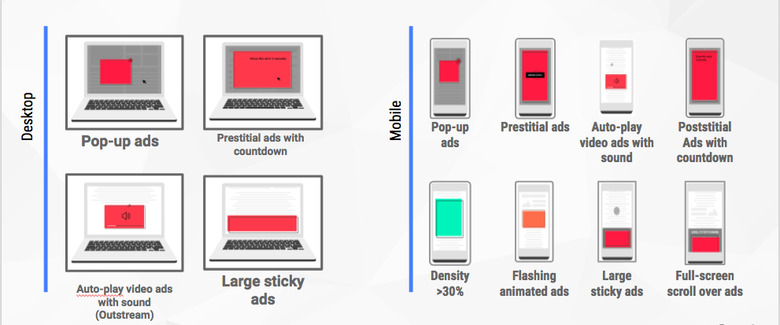 Other ads that are on the chopping block are poststitial ads with a countdown (ads that load as you're navigating away from a site), flashing animated ads, large sticky ads, and full screen roll over ads. The Better Ads Standard also recommends that mobile sites have less than 30% ad density, and those that have more than 30% will be penalized by Chrome's new rules.
Desktop
On the other hand, the Better Ads Standards are a little more relaxed over on desktop, identifying only four types on problem ads instead of mobile's eight. All four of these are also identified as bad ads for mobile, with pop-ups, prestitial ads with countdowns, auto-play video ads with sound, and large sticky ads all listed. Interestingly, ad density isn't a concern on desktop, though maybe eventually it will be.
How Chrome ad blocking will work
Chrome's ad blocking is going to function a little bit differently from a third-party ad blocker you install as an extension to your browser. Instead of blocking all violating ads the moment you load a page, Google will instead analyze websites on an individual basis. "Depending on how many violations of the Better Ads Standards are found, the site will be evaluated as having a status of Passing, Warning, or Failing," Google writes in a Chromium blog post.
Sites that get a failing grade will have all ads blocked by Chrome. This isn't a permanent thing, however, as site owners can use the Ad Experience Report and API to figure out what violated the Better Ads Standards and then ask that their site be re-reviewed when those violations have been cleaned up.
So, in the end, it sounds like Google is trying to strike a balance between being fair to sites that needs advertising revenue to keep running while also making sure that visitors don't have to deal with the most annoying types of internet ads. Any way you slice it, this is a big move for Google, and we'll see just how successful it is with this new initiative beginning tomorrow.