Google brings Now to Chrome desktop version for Windows, Mac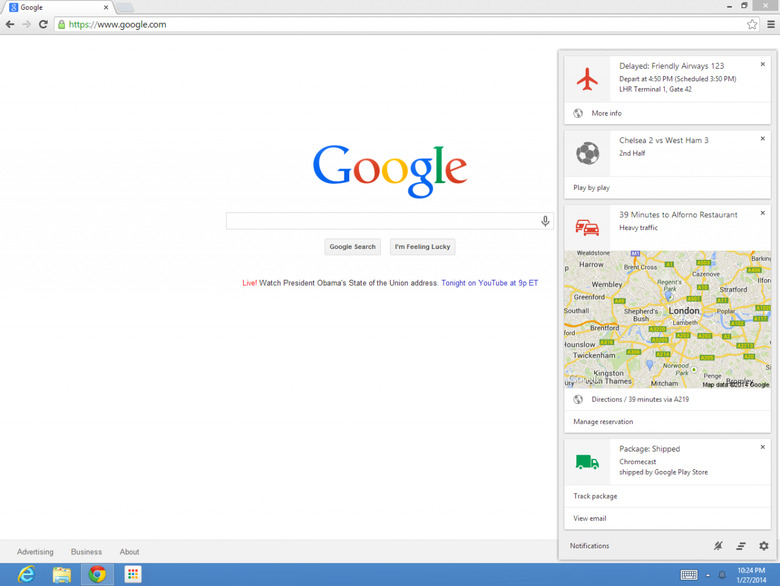 Google is rolling out Now to the desktop version of Chrome. Via Twitter, the Chrome team announced that over the next several weeks, they will be introducing Google Now to your Chrome browser on Windows, Mac, and Chrome OS. Long in the works, it seems the time for true cross-platform contextual awareness is upon us.
Google Now functionality on the desktop has long been a beta product for Chromebooks, and we've seen Google toying with it for Macs (the bell giving an error regarding Chromecast but nothing else). It works much the same as the Google Now interface you might be enjoying on your Android or iOS phone; information and reminders sent to you in a card-based format.
Some have seen this being toyed with for a while now, but we've yet to see widespread success, much less reliable use. Chromebook users on beta or Developer channel may have seen it pop up now and again on their desktop, but this rollout affects all Chrome users. Google didn't note the update was for the beta version of Chrome for the desktop, so we can safely assume it's rolling out to everyone.
This should add a suite of functionality we're fond of for Android, and act fairly seamslessly across platforms. Google notes that all you need to do is be signed in with the same account everywhere you browse, and it will automatically work.