Google boasts 200 million Android devices activated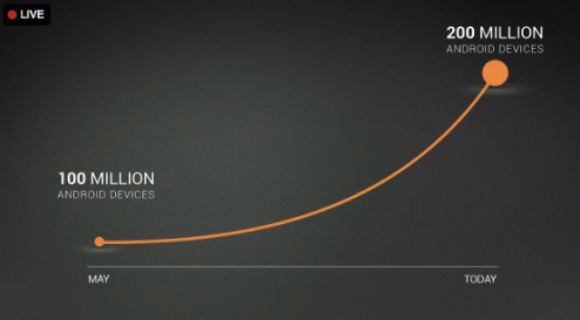 We're covering live the special star-studded Google Music event taking place right now in Los Angeles. And before diving into all the juicy details, Google has revealed that its Android platform has continued to grow at an astounding pace. The company boasts now having 200 million Android devices activated.
That new number of activations is double what was reported back in May at Google I/O, while more than 550,000 Android devices are now being activated daily. Android is certainly showing no signs of slowing down and in comparison, Apple's latest reported total activations in October was 250 million.
With the Galaxy Nexus and Android 4.0 Ice Cream Sandwich launching later this month and the coming holiday season, it would be safe to assume that Google's numbers will only be going up. But anyhow, for the details on the meat of this event, which is the new and revamped cloud-based Google Music, be sure to check out our coverage here.