Google Assistant will read and reply to WhatsApp, Telegram, and more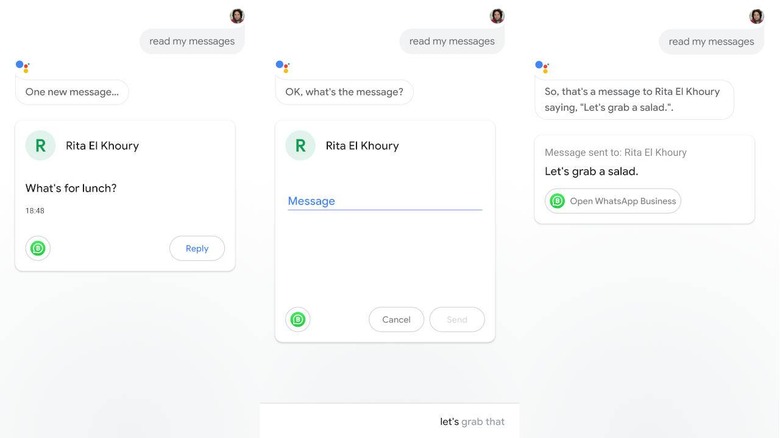 Google Assistant is a truly smart helper but even with all its AI capabilities, it's limited by what Google and third-party app developers allow it to do. Take, for example, the ability to read messages out loud let alone respond to them through voice. While Google Assistant already does that, it only does so for Google's own Messages and Hangouts apps, practically snubbing the rest of the world that use other services. Fortunately, it seems that different parties have come to an understanding and Google Assistant will soon read out those messages for you and answer them, too.
You can ask Google Assistant to "read my messages" and it will do so. But like a dutiful Google product, it only limits itself to Hangouts and SMS and the latter only if Android Messages is the default SMS app. Many markets, however, don't even use either and flock to the likes of WhatsApp, Slack, and Discord.
According to Android Police's source, Google Assistant will finally expand its skills to other messaging platforms, too. When you ask the assistant to read your messages, it will no longer skip those. It will tell you the contents of the message, the app it came from, and the sender. For Slack messages, it says the name of the channel instead.
You can even reply to those messages and Google Assistant will let you either dictate your response or, if you're on your phone already anyway, type it out. One quirk is that if the message contains images or audio, it will only tell you that there's audio in it. It hasn't yet learned how to play that out loud, perhaps to save you from potential embarrassment.
Like any new Google app feature, the rollout of this new capability follows no discernible pattern or predictability. There's also no list of which apps work with it, though Telegram, Slack, WhatsApp, and Discord have been named. Don't expect lesser-known services and apps to be supported yet though but maybe someday Google will provide a public API that all developers can use.