Google Assistant is invading Android Messages next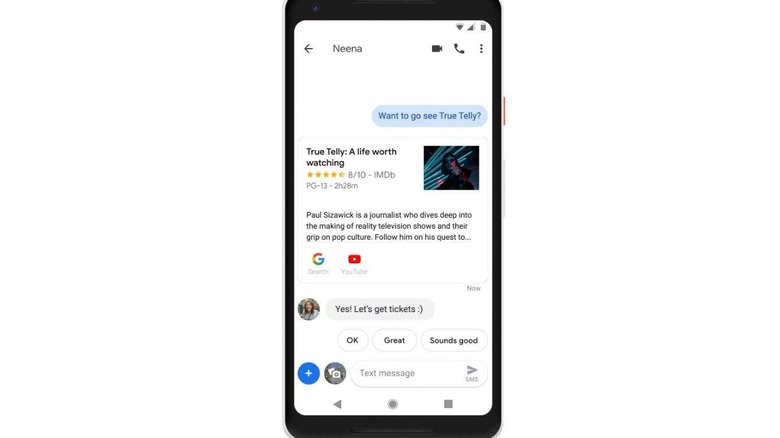 Ever since Google Assistant launched a few years back, it's been slowly invading a variety of platforms. The next platform it's slated to hit is a big one, as Google announced today that the Assistant will soon be landing in Messages on Android. Though its functionality will be relatively limited to start, it sounds like it'll still be a useful tool to have on hand during your conversations.
Google explains today that once the Assistant is live within Messages, it'll begin surfacing suggestion chips for three different categories: movies, restaurants, and weather – three things you're likely to be messaging friends about. When you see that suggestion chip, you can tap it to pull up a card with more information on whatever it is you're talking about.
If you're talking about a movie, for instance, that card might show IMDb ratings, a short summary of the flick, and links that take you to Google Search and YouTube. You can share the card in the conversation so the people you're talking to can see it as well, which means that if you're the type of person who's often recommending movies and restaurants to everyone else, Google Assistant might be able to lend a hand.
Google says that this Assistant functionality will be landing in Messages in the coming months, getting no more specific than that. Obviously, this functionality will expand beyond movies, restaurants, and weather at some point after launch, but Google gave no indication of which categories are next on the list. It sounds like we'll just have to wait on Google to deliver more details.
In other Messages news, Google says that it's continuing to work with smartphone manufacturing partners and carriers to make Rich Communication Services widely available. It says it will continue to work on broadening support, specifically looking into ways to make customer interactions with brands more useful. For example, Google envisions using RCS to fill prescriptions, check bank account balances, or view a short list of transactions within Messages itself, so we'll be on the lookout for more on the RCS front.