Google Assistant for iPad cranks up Siri's competition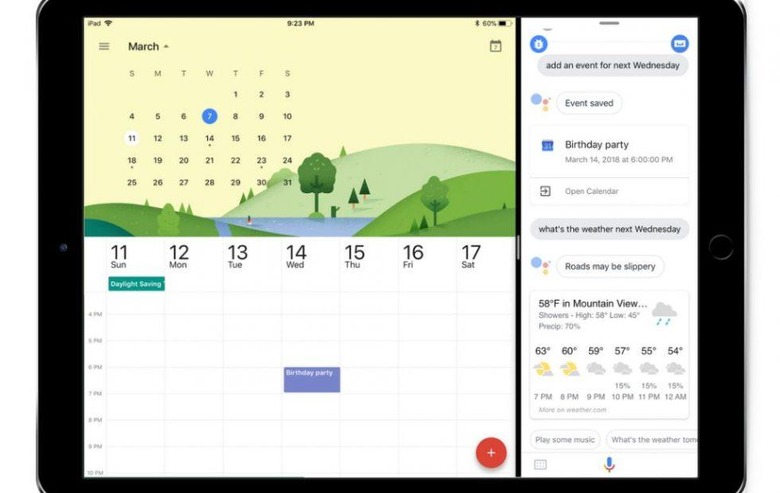 While it's a relatively safe assumption that most iPhone and iPad users prefer Siri to other AI assistants, there are always going to be some who are faithful to others. If you're an iOS user who prefers Google's apps and ecosystem, then good news, as the company is launching Google Assistant for iPad today. This iPad version follows last May's launch of Google Assistant on iPhone.
So, what's changed in the jump from iPhone to iPad? Not much, as Google obviously wants to keep the Assistant experience as similar as possible across both platforms. However, that doesn't mean there aren't improvements to be found in the iPad version, as the iPad's bigger screen means that you'll be able to use the app in both landscape and portrait mode.
Google also points out that with multitasking in iOS 11, you can take advantage of that larger screen size in other ways. For instance, you can pull Google Assistant up as you work on something in another app or play a game. More screen real estate simply means that you don't have to exit one app just to hop into Google Assistant.
As with all other non-Siri AI, Apple limits Google Assistant's functionality to its app, but that may not be as big of a problem with multitasking. Once you're in the app, Google Assistant has most of the functionality you're used to on other platforms, whether its controlling home automation systems through voice commands, scheduling reminders, or composing text messages.
So, if you're an Apple user who happens to enjoy Google's services, you now have more options when it comes to using Google Assistant on iOS. Google Assistant for iPad is launching today, and it's available in a handful of different languages: English, French, German, Italian, Japanese, Portuguese (Brazil), and Spanish. You can get started with Google Assistant for iPad by downloading the app from the iTunes App Store [download].