Google and YouTube plan to keep you informed on Election Day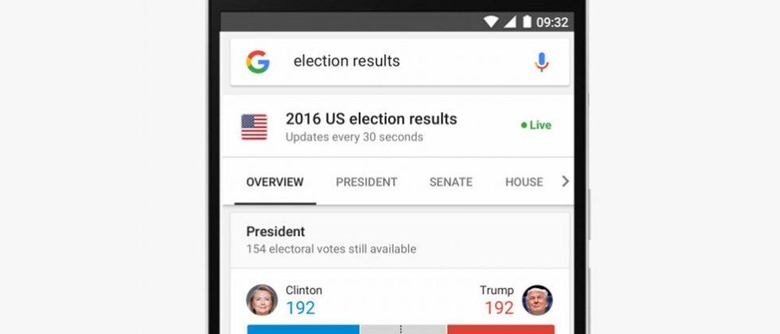 Election Day is tomorrow and no matter what candidate you support, odds are you want to know who will be in charge of our country for at least the next four years. To help you keep up with what's going on, Google and YouTube have outlined their plans to keep you informed on Election Day. Google is giving a pop-up at the top of the screen that you can click to find where to vote in your area.
Google will also offer details and updates about what's going on in the election with results for the presidential, Senatorial, Congressional, and Gubernatorial races. Details on state referenda and ballot propositions will be updated the same way. Google had been helping people find where to register to vote and giving voters details on who they can vote for.
Google notes that traffic for "how to vote" has increased 233% compared to the same search in 2012. American's are also searching for "where to vote" and Google is offering county-by-county breakdowns in battleground states. For those who are still undecided on who to vote for, YouTube has the presidential debates for anyone to watch.
As the race unfolds on Tuesday, starting at 7pm YouTube will carry live coverage from NBC, PBS, MTV, Bloomberg, Telemundo, and The Young Turks. Once the race is decided, the victory speech from the new President-elect will be streamed as well. This will be the perfect way for people who lack cable to keep up to date with the election as it unfolds.
SOURCE: Google