Google Allo finally gets a web app, but it's kind of pointless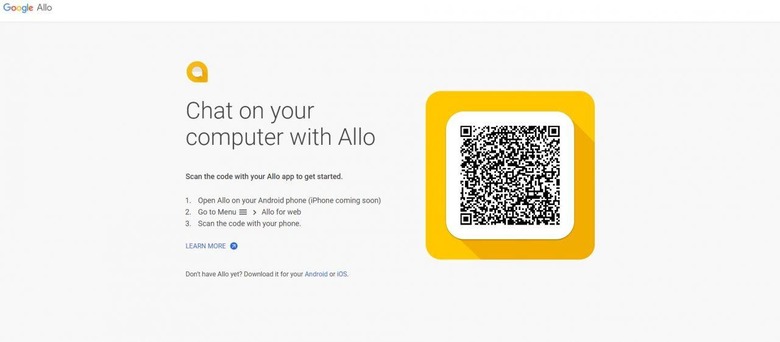 Google Allo's web app has been a long time coming, but today it has finally arrived. Google revealed the new web app today, allowing those on Android to pair their phones with their computers and send messages from there. The only problem is that the web app seems like it'll be pointless most of the time.
For now, the web app is only compatible with the Android version of Allo, though iOS support should be coming around the bend shortly. It also requires that you use Chrome, and even though that's a fairly understandable restriction, we don't see many people who aren't currently using Chrome switching just to use Allo on their computer.
That's doubly true when you realize that your phone needs to be continuously paired with your computer in order to use the web app. If the app isn't running on your phone or your phone isn't connected to the internet, you can't use Allo through the web app. That's a fairly large pile of restrictions, so the Allo web app may not be worth pursuing for a lot of Allo users, at least not yet.
If, however, you don't count yourself among that group, getting up and running with the Allo web app is fairly straightforward. All you need to do is head over to allo.google.com/web and open the Allo app on your phone. From there, go into your phone app's menu and select "Allo for web." Scan the QR code you see appear on the website and you'll gain entry to the Allo web app.
For now, it seems that the experience on web is more or less the same as the experience offered by the mobile app, which is certainly a good thing. Now all Google needs to do is remove some of these restrictions and we can really get rolling with the Allo web app. What do you think of Allo's web app? Head down to the comments section and let us know!