Google is making it easier for movie lovers to pick the right flick for date night. Mobile users can now easily compare movies that are currently in theaters using Google Search, at least if they're in the US or India and using an Android device. The tool enables users to rapidly compare things like showtimes, theater locations, viewer ratings, and more without toggling between tabs.
Despite improvements to Android and iOS, multitasking on mobile is still tricky, particularly on small devices like smartphones. Until now, comparing multiple in-theater movies using a phone or tablet meant either opening multiple tabs and searching for a movie on each of them, or repeatedly hitting the back button to return to the original search listing.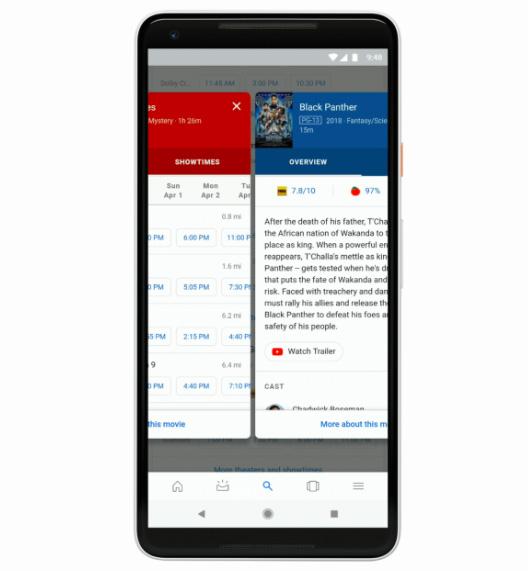 Google has eliminated that in Google Search on mobile, making it possible to swipe through the relevant details for more than one show. The feature is simple, requiring the user to first search for movie showtimes. The typical Google movie showtimes section will appear; users can scroll down to view flicks currently in theaters, available showtimes, and more.
Tap one of those movies, and thanks to the update that started rolling out yesterday, the movie info will pop out into a dedicated card. That card includes an overview of the movie, current ratings from Rotten Tomatoes, IMDB, and viewers, showtimes across the next few days, and more.
Swipe across the screen, and that card will scroll out of view. A card for another movie in theaters will replace it. Keep scrolling, and you'll soon cycle through all of the movies now playing in the cinema. Users can narrow down their options using filters. The Google app for iOS will get the update bringing this new browsing experience "soon."
SOURCE: Google