Google: 3 Million Businesses Use Google, New Features Coming Soon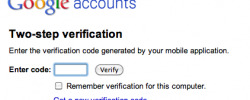 Google, as they tend to do, have managed to wrap up a bunch of announcements in one blog post, over at their official blog. At today's Google Atmosphere event in Paris, the search juggernaut had plenty of good things to announce. For example, as of today, Google is now being used by over 3 million businesses, and there are now over 30 million users within businesses, organizations, and school that make use of Google's collaborative utilities, like Google Docs, as well as messaging services like Google Talk.
Another big announcement for the company sees the huge improvements to their cloud-based security. Initially segregated to large companies with enough money to spend for it, Google is right now offering two-step verifications processes for those who want to sign into Google Apps. As of right now, it's being offered to only subscribers to Google Apps Premier, Education, and Government Edition administrators to employ. The two-step process includes inputting your password, and a one-time verification code provided by a mobile phone. Google hopes that, in the next couple of months, they can roll out this new security feature to Standard Edition users, as well as every other individual Google user out there.
And then, finally, there's mobile editing coming to Google Docs. And while its inclusion in Android-based handsets makes sense, there are a lot more people wanting to edit their documents on Google Docs from Appel's tablet. And that's finally coming. In the next few weeks, Google will introduce the mobile editing feature for Android handsets, as well as Apple's iPad. That means you'll be able to co-edit from around the world, a lot more easily.
[via Android Community]