Goodyear Unveils Spherical Concept Tires For Autonomous Cars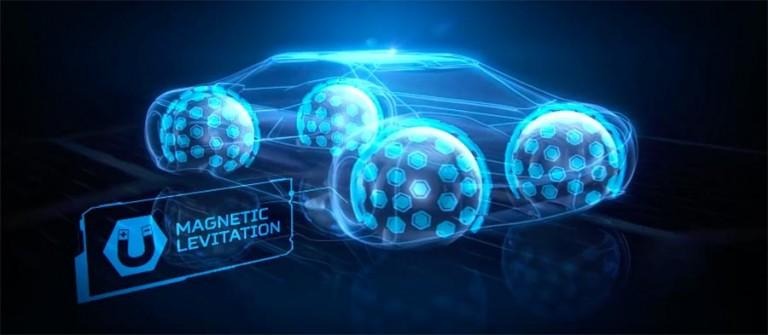 Goodyear has taken the wraps off two new concept tires designed specifically for autonomous vehicles. The most interesting of the two is the Eagle-360, a spherical concept tire that can move in any direction using, in part, a magnetic levitation system. As exciting as the Eagle-360 is, it isn't reasonable for the upcoming fleet of self-driving cars. To meet present-day needs, Goodyear has also introduced its new IntelliGrip concept tires.
Goodyear showed off the Eagle-360 concept in the video below, where you can see how they'd look on a futuristic self-driving car designed to accommodate them. Each tire is a perfect sphere that allows the car to move in any direction, making it easier to park in tight spaces (rolling horizontally into curb-side parking rather than having to back into it, for example). Goodyear also says the spherical shape would improve passenger safety by enabling more movement options.
In addition to having a high degree of mobility, the Eagle-360 tires also feature integrated sensors that impart data about weather and road conditions to the car's control system and other cars that are driving close by. These sensors let the car adjust the tires' positions to ensure the tread wears evenly over the entire surface, prolonging how long it lasts.
As shown in the video above, the tires also feature biomimicry, that is, they are designed in such a way to mimic an element of nature. In this case, Goodyear drew inspiration from brain coral, using a special material in the treads that stiffens if the road is dry and softens when the road is wet, tweaking the performance to the road conditions. Finally, and for that extra dose of cool-factor, Goodyear envisions the tires being connected using magnetic levitation, resulting in a butter-smooth ride.
More conservative but no less interesting is the Goodyear IntelliGrip concept tires, which are likewise designed with autonomous vehicles in mind. They're not spherical, but they are packed with smart technology and a special tread, allowing them to sense both weather and road conditions. There's also active-wear technology for monitoring the state of the tire and the vehicle itself. Goodyear's own algorithms would keep tabs on tire inflation and temperature, among other things.
Slippery and rain-covered roads would also be dealt with using adaption technology, with the tire itself being able to shorten the stopping distance, improve stability and cornering, and help support the car's crash avoidance system. Says Goodyear, it is presently working with some car makers to tweak its own technology to better suit their needs; the company specifically mentions things like better connectivity with a car's Suspension Control Systems, ESC Systems, and Brake Control Systems.
Of course, these are just concept tires at this time; they are not in production, and Goodyear hasn't stated whether it may bring either to the market in the future.
SOURCE: Goodyear