Gold-Plated Macbook Pro Cases From Computer Choppers - Can You Say Tacky?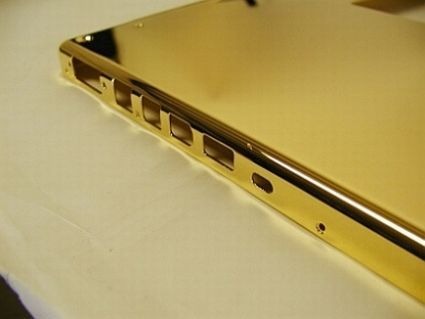 I've always thought that Apple's computers were some of the most sleek in the industry. Sure, you can go over to Alienware and get one that looks pretty beefy, but if you want simple and sexy, Apple always delivers (except for that stupid black line around the new iMac). Why on earth would you want to cover up your Mac with a cheesy-looking case?
We've already seen the hideous case covers you can get for your iMac, but as if that weren't enough, you can get something similar for your Macbook Pro. Who needs anodized aluminum when you can get a gold-plated case and an Apple logo made of diamonds?
There's no doubt that you'll turn heads every time you bust out your Macbook Pro with this $1,200-$1500 upgrade. Then again, the bearded lady also turns a lot of heads, so it's not always a good thing.
Gold-Plated Macbook Pro Brings The Bling [via crunchgear]