Gold And Diamond Christmas Tree - The Worlds Most Valuable Christmas Tree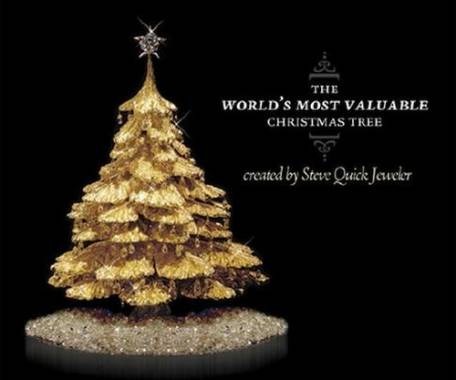 I always thought the more humble Christmas decorations were the best. Popcorn and cranberry strings, homemade ornaments and a simple string of lights give the tree a real Christmastime feel. Now, after seeing this Christmas Tree, I know what kind of Christmas I want, gold and diamonds!
It's not the worlds most expensive Christmas Tree but they are calling it the worlds more valuable. This tree was created from 5lbs of solid 18k gold and has a 4.52 carat stone set in a platinum star on top. It also has diamond-briolette ornaments and 200 carats of diamonds that make for an expensive layer of "snow".
This Christmas Tree will be on display at Steve Quick Jewelers in Chicago starting Dec. 7th and starting Dec. 17th will be on auction on eBay. 100% of the profits from this tree will go straight to the American Cancer Society. Mini versions in sterling silver and gold-plated will be on sale for $25 or you could get the 14k gold one for $195.
Gold and Diamond Christmas Tree by Steve Quick Jewelers [via Born Rich]