Going Full HD with Gefen Home Theater Scale Plus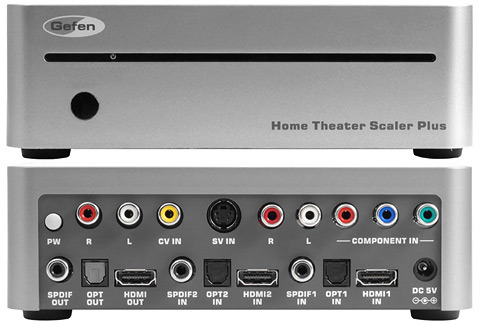 Gefen releases MinI-Mac looks alike video scaler that does full scale of 1080P from wide range of input signals. The Home Theater Scaler Plus supports one component source with analog audio, one composite or S-video source with analog audio, and two HDMI sources with 4 digital audio, 2 coaxial and 2 optical. The scaler can act as a switch to route input signals to one single set of output or does what it does best as a up or downscaler to one single HDMI output. It's HDCP compliant, makes it suitable for nowadays HD-DVD, Blu-Ray and HD device or standard DVD. It supports 480i to 1080p from HDMI or component input.
Advance features including dual scaling engines, video adaptive de-interlacers, advanced color engine technology and less than one frame delay for non-stop, real-time action. The high performance converter also supports automatic 3:2 pull-down & 2:2 pull-down detection and recovery. It's priced at $499, come with a 5V power supply, IR remote control and 6ft HDMI cable.