God of War gets a limited edition PS4 Pro bundle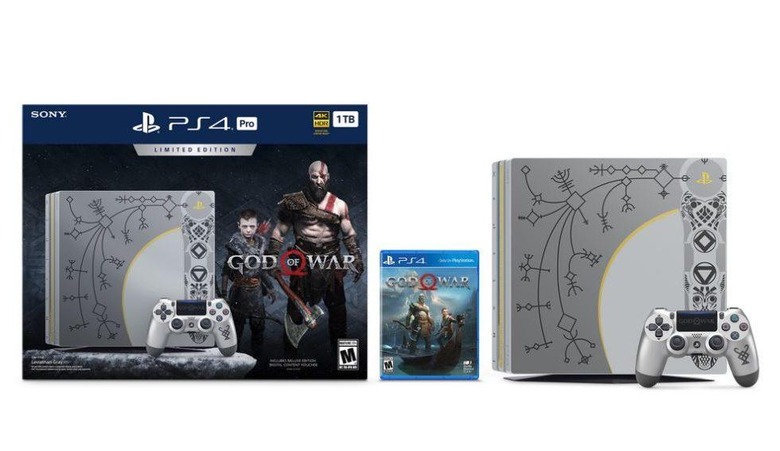 God of War is unquestionably one of the biggest PS4 exclusives of 2018, so it naturally follows that Sony would want to pull out all the stops. The publishers has already revealed a collection of special editions for the game itself, but it's not stopping there. Sony also revealed today that it will offer a limited edition PS4 Pro bundle for God of War's launch.
As with many of these limited edition bundles, this one will come with a themed console and controller. Both items feature a gray color scheme (Sony calls it "Leviathan Gray"), with the console sporting a design inspired by the axe Kratos uses in-game. Of course, the bundle will also feature a physical copy of the title along with some digital extras, so if you pick this up, you'll be able to dive right into God of War.
God of War should offer a pretty big change for the long-running series. While previous entries had Kratos fighting gods and monsters in an ancient Greek setting, this new game puts him in the frozen tundras of Norse mythology. In that way, this is something of a soft reboot of the franchise, but at the same time, this is the same Kratos that challenged the Gods of Olympus in the original God of War trilogy.
More importantly, though, this is the first God of War game developed from the ground up for the PlayStation 4. Though the PS4 has already had its first God of War release, it was merely a remaster of God of War III. A lot of fans are excited to see the series take advantage of the PS4's extra power, which lends to this being a highly-anticipated title.
This limited edition bundle will launch alongside the game on April 20. It'll cost $399.99 in the US and $499.99 in Canada, which is the same price as any other PS4 Pro package Sony currently offers. If you already know that you want to own this console, you can pre-order it beginning today from Amazon, Best Buy, and GameStop.