GMS Raider S705 rugged compact PC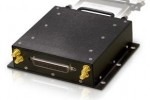 General Micro Systems have announced their latest madly-compact rugged computer, the Raider S705.  Packed into a 4.6 x 4.6 x 1.6 inch box lurks a 2.16GHz Core 2 Duo processor, up to 2GB of DDR2 RAM, dual COM ports and nine USB 2.0.  There's also the potential to support up to six simultaneous wireless connections.
That means that, in addition to dual gigabit ethernet connections, the Raider S705 can handle simultaneous monitoring and tracking of phone, wireless, CDMA, TDMA, WiFi, GPS, Bluetooth or other wireless hookups.  Up to 512GB of SSD storage (via dual 256GB drives) can be fitted, either in fixed or removable bays.
So far so good, but the GMS Raider is rugged too, meeting MIL-STD 810F and capable of operating in -40 degrees C to 85 degrees C conditions.  Per cubic inch, per watt, the GMS Raider S705 delivers the highest processing power for rugged systems in the world.
All of that means you're not likely to find this on the shelves of Best Buy; the S705 got its "world's highest" title while being assessed for an "undisclosed UAV contract", a UAV being an unmanned aerial vehicle.
Press Release:
GMS' 2.16 GHz Core 2 Duo(R) Rugged System Delivers Highest Per Watt, Per Cubic Inch Performance in Just 34 Cubic Inches

General Micro Systems, Inc. (GMS), designer and manufacturer of embedded computing products for defense, aerospace and compute-intensive applications, and the leader in high-end Pentium(R) processors since 1986, has introduced the "Raider" (S705) a new rugged, ultra-small, Core 2 Duo(R)-based system. During contract bids for an undisclosed UAV contract, the S705 was chosen over competing rugged systems as delivering the highest processing power per cubic inch, per watt in the world.

"Raider" has a Core 2 Duo processor providing up to 2.16 GHz of power and 4 MB of L2 Cache, and up to 2 GB of 667 MHz DDR-2SDRAM. The S705 is available in a variety of configurations to be completely upgradeable and compatible along the Intel(R) migration path.

Array of application possibilities comes from "Raider's" capacity to support five different expansion buses, a range of I/O, and numerous video/audio options. Adding to the system's versatility is its super-small envelope (single drive is 4.6 x 4.6 x 1.6 inches, weighing only 2 lbs.) and low power requirements (as low as 15 watts total).

"Raider" supports up to six wireless radios on four to six antennae feeds. This built-in functionality enables simultaneous monitoring and tracking of phone, wireless, CDMA, TDMA, WiFi, GPS, Bluetooth or others. Other key features are Dual GigE with TCP/IP offloading engine, high-performance video, Dual Com ports with 232/422, four USB ports, full audio for VOIP applications, full BIT and EBIT testing, and thermal management for safe thermal operation.

"Raider" designed for rugged environments (-40 C to +85 C, MIL-STD 810F), operates from a single voltage source (+16 to +28VDC) – ideal for demanding applications such as the UAV contract for which it was originally designed. Two optional 256 GB solid-state disks can be fixed or removable, offering the ability to store 1/2 Terabyte of acquired data for security purposes in sensitive operations.

"Developed for the demanding requirements of a specific UAV, the Raider is now being considered as an upgrade in several existing programs exploring weight and power reduction while needing increased performance," said Ben Sharfi, president of GMS. "Its half terabyte of storage accommodates vast amounts of mapping and guidance data."
[via Coolest Gadgets]